A French derby match
in the EuroCup Women campaign
The first match played of the eighth-final of the EuroCup Women was a French local derby between
Arras
Pays d'Artois Basket Féminin and Entente Sportive Basket
Villeneuve d'Ascq
Lille Métropole.
Villeneuve had to travel about 51 kms (32 miles) for this match.
Johanne Gomis lit up the first quarter for Arras by hitting 4-of-5 from the land of many. But a trey by Ingrid Tanqueray enabled the guests to edge the first quarter (20-19)
With Olayinka Sanni in the thick of the action at both ends of the court and clutch shooting from Tanqueray and Marjorie Carpréaux, Villeneuve won the cat and mouse battle. They hung onto their lead at the interval (37-36).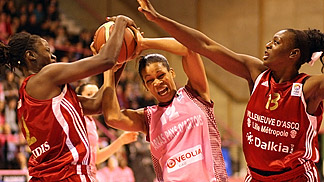 Pauline Akonga N'Simbo and Marielle Amant (middle in picture) started to find their way to the basket more often. Arras, urged on by a capacity crowd, opened up a 12-point lead to go into the final quarter with an advantage of 11 points (60-49).
The final quarter was typical of a north derby with plenty of passion which kept everybody hanging on to the edge of their seats.
Arras appeared to be safe leading (71-49). Yet then the Villeneuve sharp shooters Laurie Datchy, Carpréaux and Tanqueray all scored reducing the deficit (66-71) with the game in the last minute.
Gomis settled the match with her sixth triple of the evening with 30 seconds left to play. Amant finished things off to give Arras a 10-point advantage (76-66) going into the second leg.
Arras: Leilani Mitchell 11 (5 assists), Krissy Badé 0, Sarah Michel 6, Johanne Gomis 19 (4 steals), Olesia Malashenko 0, Adja Konteh DNP, Marielle Amant 15 (14 rebounds), Aija Putnina 9, Pauline Akonga N'Simbo 16
Villeneuve d'Ascq: Julie Page 3 (10 rebounds), Carine Paul 3, Ingrid Tanqueray 17, Marjorie Carpréaux 11 (8 assists), Laurie Datchy 6, Fanny Ploegaerts DNP, Carla Thomas 10, Olayinka Sanni 16
---
Return to the EuroCup Women index
Return to the top of page
---
Picture credits:

FIBA Europe

Date created: 12 January 2011
---