EuroCup Women delight for Arras supporters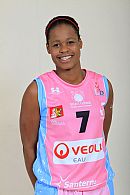 Arras recovered from a 20-point deficit to win the first leg of their EuroCup Women tie (67-66).
While Pauline Akonga N'Simbo will be headline news, Arras need to thank the unselfish work of Krissy Badé (left) whose years of European experience made the difference down the stretch.
Arras did not have the best start to this match trailing (2-8) after three minutes.
Arras struggled inside the paint against the taller players from Chevakata. In addition they also lost their scoring touch and trailed (10-23) by the end of the first quarter.
Chevakata continued their bombardment and went 17 points clear (34-17) with just over two minutes to play in the first half.
Arras managed to stop their guests running away with the game and reduced the deficit slightly going into the locker room (21-35).
The hosts were more aggressive after the break and stopped Chevakata from going more than 20 points ahead.
They finally started to come alive with 25 minutes played and finished the quarter strongly while reducing their deficit to 13 points (43-58).
The final quarter then went fully to the advantage of the hosts which started with a 9-0 run. Akonga N'Simbo (with the ball in picture) was doing most of the damage (52-58).
Chevakata were on the back foot and started to turn the ball over time and time again. In the meanwhile Badé gave perhaps her best display since joining Arras in attack and defense.
Also the telepathy between Leilani Mitchell and Johanne Gomis resulted in 2 assists for Mitchell and 2 treys for Gomis as Arras went in front (63-61) with two minutes to play.
Jessica Davenport (above in picture) went 3-of-5 from the free-throw line for the Russians to regain the lead (66-65) with the game in the last minute.
Badé was once again in the mist of the action. She fed the ball to Olesia Malashenko who scored what turned out to be the game-winning shot (67-66).
Arras: Leilani Mitchell 12 (3 assists and 4 steals), Krissy Badé 4 (3 assists), Sarah Michel 0, Johanne Gomis 14, Olesia Malashenko 11 (8 rebounds), Adja Konteh DNP, Marielle Amant 3, Aija Putnina 2, Pauline Akonga N'Simbo 21
Chevakata: Loree Moore 7 (9 rebounds), Elena Kharchenko DNP, Maria Cherepanova 13, Daria Ezhova DNP, Elena Danilochkina 4, Anna Mikheeva 8, Anna Petrakova 9, Elena Volkova 3, Yuliya Kiseleva 6, Jessica Davenport 16
---
Return to the EuroCup Women index
Return to the top of page
---
EuroCup Women picture credits:

LFB
Alain Cuiger

Date created: 24 February 2011

---