EuroCup sucess for the two French clubs
---
---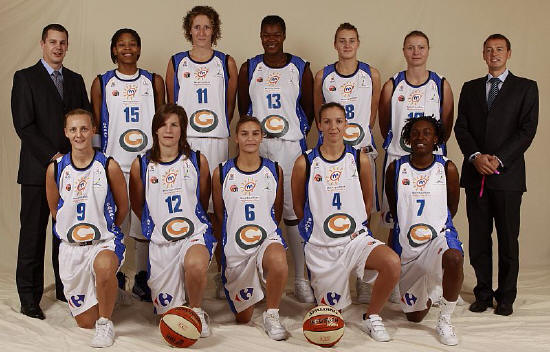 Lattes Montpellier secured their second EuroCup Women victory with a comfortable away win against Ruzomberok (68-40).
Montpellier led from start to finish with Constance Jinks leading the scoring with 15 points. But the player of the match was Khadijah Whittington with a double-double of 11 points and 11 rebounds. She also had 2 steals and 2 blocks.
USO Mondeville had a much tougher game and just held off Seat Györ (61-58).
The Hungarian side had two players who are well known in France: Orsolya Englert (Arras and Reims) and Hajdana Radunovic.
Mondeville went into the final quarter leading (52-51) and survived with two minutes left to play in front (61-54) with 2 points coming from Pauline Thizy.
The hosts came back with a late flourish. However the final three-point attempt by Angela Demis fell short.
Lenae Williams, the only player from Mondeville in double digits, scored 18 points. Englert and Radunovic led the scoring for the hosts with 20 and 10 points respectively.
---
---
MGS Apollon Kalamarias withdrawn from EuroCup Women
FIBA Europe announced that MGS Apollon Kalamarias are out of the competition after playing just one match.
In the communiqué it was stated that the club had to withdraw due to financial problems.
As a result of this the following statement was released about the games to be played in Group I:
"MGS Apollon Kalamarias were to play in four team Group I.
The remaining games in Group I will be played according to schedule. The results of the games which have already been played between Apollon and Baschet ICIM Arad will be considered null and void."
Some news from some of the other games
Dynamo Moscow travelled to Romania and beat LMK SBC SF Gheorghe (69-54). Marina Kuzina scored 27 points and collected 10 rebounds in the victory.
Saarlouis Royals recovered from last week's defeat to Ibiza with a comfortable (88-56) win against Nyon Basket.
Nyon shot 10-of-24 from beyond the arc. But they were unable to handle Czech Republic international Petra Manakova who scored 19 points and collected 8 rebounds for the German team.
Jolly JBS Sibenik played in the EuroLeague Women last season. They made it two wins from two games with a hard fought victory (74-60) against Energa Torun.
The match winner was Luca Ivankovic who scored 21 points and captured 12 rebounds.
Municipal Targoviste bounced back from last week's loss with a home victory against Dynamo Kursk (62-56) while CCC Polkowice edged out Ibiza Sport Island (48-44).
The game of the this round for offensive basketball was the group encounter between hosts Hapoel Hatikva Tel Aviv and Dunav Econt Ruse ending (104-100) to the guests.


All the results from the second round of games
Seat Györ 58-61 USO Mondeville
Vagos 72-61 Sdent Sierre Basket

Olivais Coimbra 67-61 ZKK Medvescak
Dexia W Namur 73-75 Gran Canaria

Ruzomberok 40-68 Lattes Montpellier
CAB Madeira 67-69 Lemminkainen

Saarlouis Royals 88-56 Nyon Basket
CCC Polkowice48-44 Ibiza Sport Island

Jolly JBS Sibenik74-60 Energa Torun

HATIS Yerevan 103-99 Chevakata
Besiktas JK 80-75 Sony Athinaikos

LMK SBC SF. Gheorghe 54-69 Dynamo Moscow
Hapoel Hatikva Tel Aviv 100-104 Dunav Econt Ruse

Samsun Basketball 65-68 K.V. Imperial AEL
Municipal Targoviste 62-56 Dynamo Kursk

Baschet ICIM 67-69 Nadezhda

Spartak Noginsk 76-78 KK Hemofarm Stada

BC Dnipro 64-61 Dynamo Kyiv

---
Good start for Mondeville and Montpellier
Return to the EuroCup Women home page
Return from FIBA Europe EuroCup Women round-up to women playing basketball blog
Return to women playing basketball in France home page
picture credits:

Royals-Saarlouis
Ligue Féminine de Basket - LFB

Date created: 19 November 2009

---
---