The brackets for EuroCup Women confirmed
Lattes Montpellier are first seeds
---
---
---
---
The final round of EuroCup Women games went well for Lattes Montpellier and USO Mondeville with victories.
Lattes Montpellier finished with a (72-52) victory against Lemminkainen. Gaëlle Skrela led the Montpellier attack with 18 points.
Montpellier, Dynamo Moscow and Gran Canaria-La Caja De Canarias are the only teams to complete the first phase undefeated and are seeded 1, 2 and 3 respectively.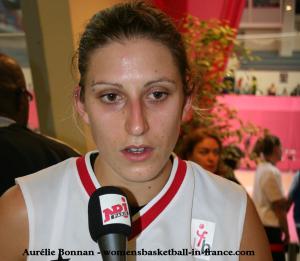 KK Hemofarm Stada are also unbeaten but only played two games in the first phase. They are still seeded 5.
USO Mondeville were back to full strength for their final Group A match against Sdent Sierre Basket.
Aurélie Bonnan (right) led Mondeville to victory (80-67) with 23 points, 15 rebounds and 5 assists.
With the brackets for the rest of the competition, Mondeville and Montpellier could meet in the semi-final.
All the results from the EuroCup Women 6th round of games
Sdent Sierre Basket 67-80 USO Mondeville
Vagos 57-64 Seat Lami-Véd Györ

ZKK Medvescak 69-79 Gran Canaria
Olivais Coimbra 81-88 Dexia W Namur

Lemminkainen 52-72 Lattes Montpellier
CAB Madeira 68-64 Ruzomberok

Nyon Basket 64-72 Ibiza Sport Island
Saarlouis Royals 68-66 CCC Polkowice

Mann Filter 80-46 Energa Torun

Chevakata 79-80 Sony Athinaikos
HATIS Yerevan 78-74 Besiktas JK

LMK SBC SF. Gheorghe 78-75 Hapoel Hatikva Tel Aviv
Dynamo Moscow 69-46 Dunav Econt Ruse

Municipal Targoviste 66-47 Samsun Basketball
Dynamo Kursk 78-52 K.V. Imperial AE

Baschet ICIM 80-72 Botas Spor

Zeljeznicar NLB 74-80 Dynamo Kyiv

---
---
EuroCup sixteenth-finals draw
The sixteenth-finals are played over two legs with the higher seeded team starting away and hosting the second game.
The teams were ranked from 1 to 32 according their win-loss percentage and goal average.
The pairing is as follows:

Lattes Montpellier (FRA) vs Spartak M.O. Noginsk (RUS)

Dynamo Moscow (RUS) vs Sdent Sierre Basket (SUI)

Gran Canaria (ESP) vs Jolly JBS Sibenik (CRO)

KK Hemofarm Stada (SRB) vs Zeljeznicar NLB (BIH)

USO Mondeville (FRA) vs Baschet ICIM Arad (ROU)

Seat Lami-Ved Györ (HUN) vs Lemminkainen Klaipeda (LTU)

SONY Athinaikos (GRE) vs ZKK Medvescak (CRO)

Mann Filter Zaragoza (ESP) vs LMK Sepsi SF. Gheorghe (ROU)

Nadezhda (RUS) vs Hatis Yerevan (ARM)

Dynamo-NPU Kiev (UKR) vs Energa Torun (POL)

Dynamo Kursk (RUS) vs Besiktas JK Cola Turka (TUR)

---
Return to the EuroCup Women home page
Return from FIBA Europe EuroCup Women round-up to women playing basketball blog
Return to women playing basketball in France home page
picture credits:

womensbasketball-in-france.com

Date created: 18 December 2009

---
---