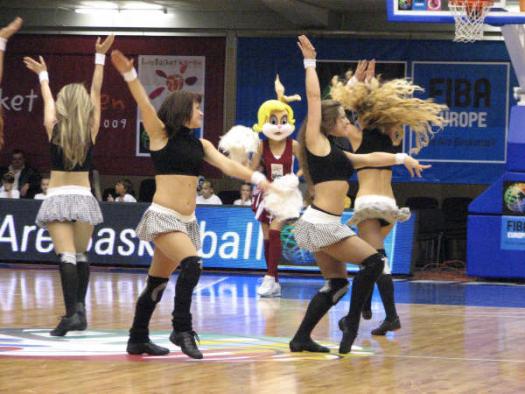 The EuroBasket Women 2011 qualifiers is also the first step in the qualification path for the 2012 Olympics. Missing out on EuroBasket also implies elimination from the Olympic games:
The top 2 teams from each of the groups qualify directly for the finals to be played in Poland, June 2011.
The qualifiers join Belarus, France, Greece, Poland, Russia and Spain.
The two remaining two places will be given to the two teams that win the Additional Qualification Round (ADR).
We will be following some of the players who are currently playing or who have played in France during the qualification round.
So far only matches from group A and C have been played.
You can read the information by clicking on the links below or by scrolling down the page:


Group A: Lithuania lead despite loss to Italy

Group C: Montenegro and Turkey remain undefeated

---
---
Lithuania are setting the pace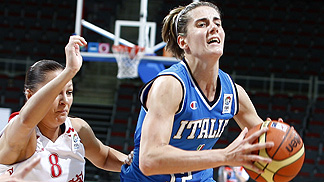 Lithuania lead Group A with three wins and one defeat. They lost for the first time in their fourth game on the road to Italy (72-87).
Italy who are without Laura Macchi and Simone Ballardini started the competition with two defeats but bounced back with Raffaella Masciadri (right) and Kathrin Ress scoring 19 and 15 points each.
Belgium currently lie second in the group. They have several players who spent a lot of their career in France. Ann Wauters and Kathy Wambe, the senior players in the roster, spent a lot of their career playing in the north of France for clubs in the LFB.
Sara Leemans who spent a season with COB Calais (2008-2009) is currently leading the scoring for Belgium with 16.3 points per game.
Belgium tore apart the Netherlands during the second half to win (91-59) for their second win.
Ana Lelas scored 17 points in Croatia's opening game victory against Italy. Croatia, Italy and the Netherlands all have one win each.
The group action continues on Saturday, 14 August 2010.
Belgium 91-59 Netherlands
Italy 87-72 Lithuania

Netherlands 78-72 Croatia
Lithuania 95-78 Belgium

Belgium 78-73 Italy
Croatia 72-80 Lithuania

Lithuania 98-52 Netherlands
Italy 69-76 Croatia

Return to the EuroBasket Women index the top of page
---
---
Montenegro and Turkey leading the way
Montenegro and Turkey have been setting the pace in Group C with three victories each. Iva Perovanovic has been the leading figure for Montenegro, averaging 19 points per game.
The two teams will meet this weekend in the battle for first place.
Hungary's only victory so far has come against Finland. Nora Nagy-Bujdosó who spent two seasons with Bourges Basket led the Hungarian attack alongside Tijana Krivacevic with 18 points in the victory against Finland.
For Bulgaria Donneka Hodges is leading the way with 21 points per game while former Tarbes player Jaklin Zlatanova (right) is averaging almost 16 points per game.
Ekaterina Dimitrova who has played for Basket Landes for the last two seasons is also in the Bulgarian team.
Finland 55-94 Montenegro
Turkey 62-54 Hungary

Hungary 72-55 Finland
Montenegro 68-66 Bulgaria

Finland 60-74 Turkey
Bulgaria-57 Hungary

Hungary 65-76 Montenegro
Turkey 76-67 Bulgaria

Return to the EuroBasket Women index the top of page
---
Return from EuroBasket Women qualification basketball news to FIBA Europe competition index
Return from new bulletin to France senior international basketball page
GO Back to the top of the page
---
picture credit:

FIBA Europe
LFB

Date created: 12 August 2010
---