EuroBasket Women 2009 one on one
Cindy Lima
Evaristo Pérez,
---
---
Cindy Lima on EuroBasket Women 2009 and Spain
Cindy Lima turns 28 the day after this tournament ends.
After a successful youth international career, she had to wait until 2007 before securing a place as a senior international.
She played for Spain at EuroBasket 2007 and in the Beijing Olympics in 2008.
Before the first matches took off in Latvia, Cindy Lima had explained that her team was very happy and excited about the challenge ahead.
She continued that the EuroBasket Women 2009 edition was going to be off a high level as the teams had improved a lot.
There was the Czech Republic for instance who had got some of their old experienced players back. Yet the Spanish team was feeling well and was anxious to to get started.
In the first match they are to face the Czech Republic and Spain is aware of their opponents' talented and competitive tall forward players. Her side has to make sure to stop them from entering the paint to get the offensive rebounds.
In the following games the Spanish team will meet the Ukraine and the Slovak Republic. Lima mentioned that all the opposing teams could have a good or bad day.
Hence her side knows that they always have to play hard and give it all.
Concerning her physical and psychological health she is ready after some physiotherapy. Lima hopes that all the problems she had during the Olympics won't happen again.
She will try not to keep her nerves, not get overexcited to avoid to get into quick foul troubles.
Evaristo Pérez on EuroBasket Women 2009 and Spain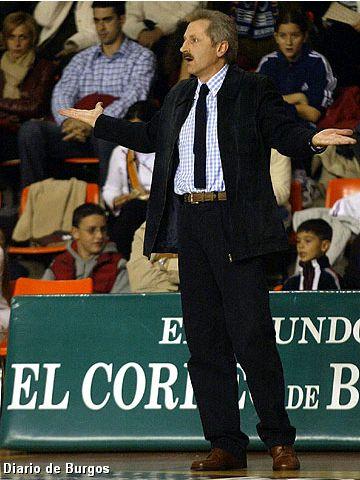 Evaristo Pérez, the Spanish head coach, commented on the preparations and the challenge lying ahead of the Spanish team.
He reckons that the preparation went well and he knows that the jelling of the team also means changing habits, acquire good habits, adapt roles, games and style.
All this takes time and Pérez is content with the results during their preparation.
He thinks they did a really good job in every sense, physical, technical and tactical.
The whole team is in good shape and are ready to start this tournament.
The team has been evolving all the time. And it is now the turn of the younger generation to step up and participate in major championships.
Pérez added that players like Tamara Abalde, Laura Nicholls and Alba Torrens have been improving throughout and never got big headed by being selected to the national senior team.
Furthermore after finally establishing herself Silvia Dominguez adds also a new dimension to the team next to the other two veteran guards Elisa Aguilar and Laia Palau.
Then there is another young player, Anna Cruz who had a great season and was voted Spanish player in the league.
She worked continuously on improving her game to become more complete with accurate three-point shooting, attacking the basket aggressively, good defense.
With her eye for rebounds Cruz should also be a valuable player for his team.
Pérez said about this Eurobasket 2009 that their first opponent, the Czech Republic would be difficult opponents to the tournament as they had won this competition in 2005.
With the return of certain players the Czech players look stronger than last season. Even without Hana Horackova they would be hard to beat.
However he knows of the importance of winning the first match and he is confident that Spain will take this upon them.
---
Return from EuroBasket Women 2009 finals to "What's New" page
Return to Senior International Basketball
pictures credit :
Castoria - FIBA Europe
Diario de Burgos - FIBA Europe

Date: 07 June 2009
---