Eurobasket Women 2009 marathon qualification finally over
---
---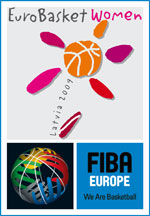 With the finalist already known for EuroBasket Women 2009, the last two matches from Group A and Group B were played out with nothing more at stake.
All the teams playing at home won in the final rounds of games.
Bulgaria ended their campaign on a high with their first victory (67-66) against Germany. Noel Monik Kuin led the Bulgarian attack with 16 points. Basket Landes' Bulgarian international Ekaterina Dimitrova scored 8 points and dished out 3 assists.
Croatia with Ana Lelas leading the way beat Italy (75-64) to bring this edition of qualification to an end.
Relief for Finland and tears for Great Britain
Finland's status in Division A was in the hands of Great Britain. So all they could do was to play their game against Bosnia and Herzegovina and keep an eye on what was happening in Romania.
With Finland's game tipping off 30 minutes after the match between Romania vs. Great Britain, everybody in the hall in Lahti was aware of Finland's survival in Division A before the end of the game.
Bosnia, as usual, played well in the first quarter and only trailed by 7 points going into the second period.
However Finland took command of the game in the second period to go into the interval leading (47-31).
Finland did not lose their hold of the game and cruised to victory (95-58) with Taru Tuukkanen leading the way with 22 points and 13 rebounds. Matea Tavic led the way for Bosnia with 24 points.
Romania held off Great Britain in a dramatic finish (71-66).
This defeat leaves Great Britain in third place and relegated to Division B. However this decision still has to be ratified by FIBA Europe.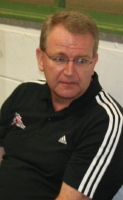 Mark Clark who is the head coach of Great Britain was full of praise for his girls and said: "We showed tremendous heart to get ourselves back into the game and we were in with a chance of wining the game outright down until the last two plays."
Great Britain did not have a great day at the free-throw line shooting 15-of-23 but more significantly did not get to the foul line in the final period.
Romania got off to a better start in the match leading (19-6) after just four minutes.
Great Britain chased after their opponents from then on.
Entering money-time (the last two minutes) yhey trailed by just 3 points (61-64).
Romania was still ahead (69-66) with less than 15 seconds left to play.
Great Britain had no option but to foul in order to stop the game clock and also hope that Romania - also having problems from the foul line - would miss.
However Paula Ciocan did not miss and Great Britain did not have enough time to save the game.
Simina Mandache with 16 points was one of five players from Romania in double digits.
For Great Britain Kim Butler finished with 22 points and 10 rebounds while Rosalee Mason scored 16 points.
---
EuroBasket Women 2009 ADR box scores - January 19 2009
Romania 71-66 Great Britain
Finland 95-57 Bosnia and Herzegovina
Bulgaria 67-66 Germany
Croatia 75-64 Italy
---
Look back at EuroBasket Women Additional Qualification Round 5 (ADR) News
Return from EuroBasket women 2009 qualifiers preparation to "What's New" page
EuroBasket Women 2009 qualifying news picture credits:

Womensbasketball-in-france.com
Date created: 19 January 2009

---