Bulgaria saying good bye to EuroBasket Women 2009
---
---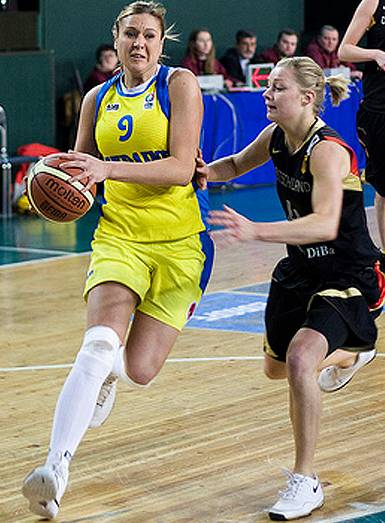 Bulgaria had no answer for stopping
Olexandra Gorbunov
(right) in their EuroBasket Women 2009 additional qualification game against Ukraine.
Gorbunov scored 32 points and took 10 rebounds as she led her side to victory (67-61).
All the same Ukraine, playing at home in Kiev, did not have it easy. They were required to dig deep in the last two minutes of the match as Bulgaria drew level (61-61).
For Bulgaria Noel Monik Kuin led the attack with 16 points, Basket Landes' Ekaterina Dimitrova was in the starting five and scored 7 points.
Ukraine play their final match on Friday, 16 January, against Germany. The Ukrainian EuroBasket qualification will be assured with a victory. However if they lose they will still qualify for the finals on the condition that Germany fail to beat them by more than 26 points.
Eurobasket Women 2009 Box Score
---
Belgium beating Croatia for first win of the year
It was a pity that there were not many people to watch this entertaining EuroBasket Women 2009 qualifier match at the hall in Liège.
Laurence Van Malderen was handy from behind the arc for Belgium with two shots for her side to take an early lead (8-4).
The two teams were soon level (9-9) but foul problems hindered them to progress.
Yet Belgium held on to the lead until the final minutes of the first period when Luca Ivankovic put Croatia in front for only the second time in the match.
Marta Cakic's buzzer beater allowed Croatia to edge the first period (25-22).

Belgium played more collectively during the second period. Despite players' foul problems they regained the advantage (32-30) after back to back baskets from Sara Leemans (left).
Both sides then traded basket for basket till the end of the period with Belgium heading into the locker ahead (43-41).
Belgium's youth players had problems dealing with Andja Jelavic who drew 8 fouls and scored 14 points during the first half.
Ana Lelas was the other player from Croatia that was dangerous with 13 points including 3-of-3 from beyond the arc.
Belgium changed tactics after the break that enabled them to regain the lead despite the clutch three-point shooting from their guests (55-51).
Leemans was on hand to close the scoring for the third period and increase Belgium's advantage (64-58).
An 8-2 start from Belgium at the start in the final period put them in the driving seat for the rest of the match (72-60).
Jelavic (16 points) and Lelas (15 points) were not scoring anymore for Croatia while Stéphanie Dubuc (20 points that included 4 three-pointers) and Leemans (24 points) continued to find the target for Belgium as they went on to win (86-75).
Eurobasket Women 2009 Box Score
---
---
Romania have a foot in Division A while Finland beat Great Britain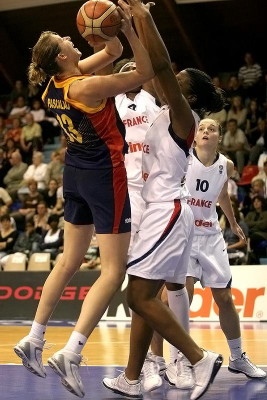 Romania kept their focus as they won against Bosnia and Herzegovina (78-47) to maintain their unbeaten record in the relegation group.
With this victory Romania have almost assured life in the elite division of women's basketball.
For Bosnia and Herzegovina their short stay in Division A is over to return again to Division B.
For Vesna Bajkusa who only took up the job of head coach three weeks ago, it is now time to rebuild for the future. She went with a young roster into this campaign with five players in their teens.
For Romania Maria Pascalau (right) once again led the attack with 21 points and 9 rebounds. She was supported by Simina Mandache with 18 points.
Only Anja Stupar with 12 points also reached double digits for Romania.
Eurobasket Women 2009 Box Score
---
Great Britain led for most of the match against Finland but then lost their way during the closing minutes (55-60).
With this victory Finland move into second place in the relegation group and have the advantage if both teams finish on identical records at the end of the series.
For Colomiers who would have loved to have Rosalee Mason back for this weekend's game in NF1, the defeat of Great Britain was not what they would have wished for.
Eurobasket Women 2009 Box Score
---
Look back at EuroBasket Women Additional Qualification Round 3 (ADR) News
Return from EuroBasket women 2009 qualifiers preparation to "What's New" page
Picture credits:

FIBA Europe
Alain Christy
Ann -Dee Lemour

Date created: 13 January 2009

---