Coupe de France Cadette Stabilo eighth-final news
---
---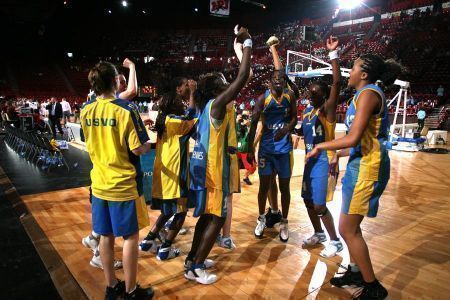 The Coupe de France Cadette Stabilo is down to the last 16 or the eighth-final. So far this year's competition has been low key with a number of top youth sides declining to take part.

USVO, (celebrating in picture)the defending champions, are just one of two clubs from the north of France still participating. Bourges Basket are also missing after their surprise elimination in the last round.
One of the interesting aspects of this competition is that most of the clubs left have built teams just for this cup. The majority of the players play with senior teams in NF1/NF2 or NF3 and may not even play in the U18 (cadettes) national league which makes irrelevant the classification for the cadettes division A, B and region.
On Saturday three matches will be played: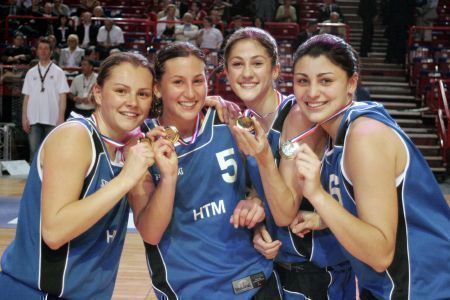 Étoile de Voiron Féminin
, champions in 2006 and runners-up will play at home against
Nice Côte d'Azur Basket
.
AS Villeurbanne take on Challes-les-Eaux. Claire Vanhoutreuve, who plays with Challes-les-Eaux in the LFB, is still eligible for this competition.
The defending champions USVO with five members from last season's winning team will take on Chalon sur Saône.
On Sunday four matches will be played:

Mondeville, winners in 2005 and runners-up in 2006 travel to Nantes to take on ALPC Moulin Nantes Basket.
The Bretagne (Brittany) derby between Union Nord-Ouest Vendée and cup specialist Rennes Avenir has all the ingredients for an explosive match.
FC Lyon will take on Clermont-Ferrand, the team that eliminated Bourges Basket. Furthermore Basket Landes entertain Mourenx.
The final game will be played on the 26 March. It is between Charleville Mézières, who knocked out COB Calais in the last round, and high flying Saint Amand.
Eighth-final games
Étoile de Voiron Féminin - Nice Côte d'Azur Basket
AS Villeurbanne - Challes-les-Eaux
US Valenciennes O. - Chalon sur Saône BC
Basket Landes - Mourenx BC
Union Nord Ouest Vendée - Rennes Avenir
ALPC Moulin Nantes Basket - USO Mondeville
FC Lyon - Stade Clermontois AB 63
ASPTT Charleville Mézières - St Amand PH
Return from Coupe de France Cadette Stabilo to Amatuer Basketball
Pictures are courtesy of the Ligue Féminine de BasketBall
Date: 21 March 2008
---