Coupe de France Basketball Draw
---
---
Coupe de France Basketball - Joe Jaunay quarter-final draw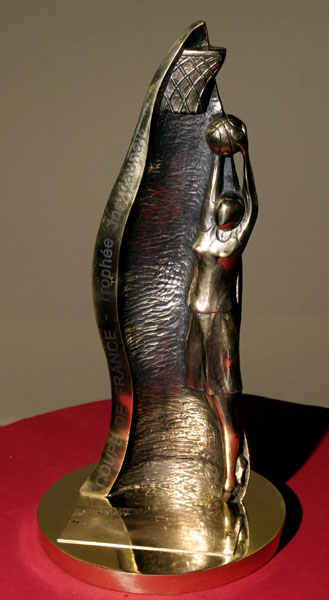 The quarter-final and semi-final will be played on the 22 and 23 March 2008.
These finals will be held at two venues: Metz and Poissy. The matches for the quarter-final will be played at 17:30 and 20:00 local time on Saturday and the ones for the semi-final on Sunday at 16:00.
The draw is as follows:

Venue: Metz
Saturday: 22 March
(1) Saint Jacques Sport Reims vs. COB Calais
(2) Lattes Montpellier vs. Villeneuve d'Ascq (Lille Métropole)

Sunday: 23 March
Winner (1) vs. Winner (2)


Venue: Poissy
Saturday: 22 March
(3) Challes-les-Eaux vs. Mondeville
(4) Aix-en-Provence vs. Bourges Basket

Sunday: 23 March
Winner (3) vs. Winner (4)

You will be able to find information from the previous round here.
Eighth-final draw for the Amateur Cup - Trophée Coupe de France
The matches are scheduled for 22 March 2008. The teams from NF3 will start the match with a bonus of 7 points if they face clubs from NF2.
Nice-CAB vs. Toulouse Basket
US Laveyron vs. Aix-en-Provence Espoir (NF3)
CSP Rezé vs. ASPTT La Rochelle (NF3)
Argenton-Thouars B 79 vs. AJS Ouistreham
Val de Loire Union 37 vs. Stade Pointevin (Poitiers)
COB Calais Espoir (NF3) vs. AL Aplemont Le Havre
AS Villeurbanne vs. CJS Geispolsheim (NF3)
Strasbourg I.G (SIG) vs. Saint Savine (NF3)
You will be able to find information from the sixteenth-final here.
Eighth-final draw for Coupe de France cadettes Stabilo
The draw for the last 16 clubs left in the national U18 French cup is made on a regional level in order to reduce the visiting teams' journey time.
USVO are the defending champions, they beat Voiron in the 2007 final (85-54). Five players from that team are still eligible for the competition this season. Charlotte Raingeard and Bettina Kadila are two of the players.
The remaining players, Doussouba Bouare, Aminata Konate and Philomène Nke were members of the all conquering Paris Basket 18 that won the U15 national championship in 2005 alongside Diandra Tchatchouang.
Voiron vs. Nice CAB
Basket Landes vs. Mourenx
Union Nord Ouest Vendée vs. Rennes
APLC Moulin Nantes vs. Mondeville
USVO Valenciennes vs. Chalon sur Saone
Charleville-Mézières vs. Saint Amand
FC Lyon vs. Clermont-Ferrand
AS Villeurbanne vs. Challes-les-Eaux
Return from Coupe de France to LFB Basketball News
Pictures are courtesy of the Ligue Féminine de BasketBall
Date: 1 March 2008
---