Roster basketball news
Kelsey Bolte finished playing for Cavigal Nice
These days professional players leaving clubs early does not make basketball news headlines. Yet every season it still comes as a surprise when talented young foreign players leave before the expiration of their contracts.
Last season Steffi Sorensen left Union Hainaut Basket after playing only six games in the Ligue Féminine de Basketball.
She had just completed her college career with the Florida Gators and was expected to make her mark in France. However homesickness set in and she asked to be released.
This season Cavigal Nice signed former Iowa State star Kelsey Bolte, an American player with an impressive statistic: 1,639 points and 665 rebounds. She also won plenty of awards in the Big-12 conference during her four years.
During the 2011 WNBA draft, she was the 32nd player to hear her name and was signed to the Atlanta Dream. However her chance of playing in the WNBA for the season more or less ended when she was waived in May.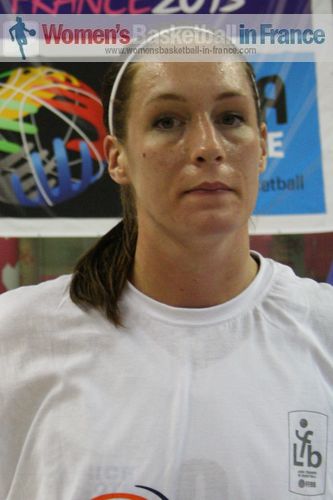 She arrived in France in September to play for the newly promoted Cavigal Nice. She made her professional début during the Open LFB against Bourges Basket. She was to play only eight minutes in the loss.
Things improved in the second match for her. Bolte played almost 20 minutes and scored 12 points which included 2-of-3 from behind the arc. Unfortunately this was her last great performance.
Cavigal Nice was struggling and she was given limited time off the bench. In total she appeared in six of the nine games played before her departure and scored a total of 18 points.
Although Cavigal Nice did not make a public statement about Bolte's departure, eight days after writing this article it was announced on the club's official twitter account on 9 December 2011 that Polish international Małgorzata Babicka had replaced her.
---
Go to Ligue Féminine de Basket 2011-2012 page
Leave LFB basketball news - Season 2011-2012 page and return to home page
Return to the top of Ligue Féminine de Basketball page
Basketball news picture credits:


womensbasketball-in-france.com

Date created: 30 November 2011
Page updated: 10 December 2011
---