When Voiron travelled to Nice they were confronted with a packed hall with approximately 1000 spectators. Nice held off a late burst from Voiron to win (70-65). This defeat knocked Voiron off the top spot and out of the U18 national final four. For Nice it was a nice way to end a tragic week.
Charleville Mézières' policy was to keep the U18 players together by playing them in the U18 matches and rotating them in the reserve side. Their method has worked wonders as they have been promoted from U18 division B to division A. They also have qualified for the last eight of the Coupe de France cadettes Stabilo by knocking out U18 division A high flyers Cob Calais and 2008 U18 final four finalists Saint Amand.
This forthcoming match will be difficult to analyse as both sides play opposing styles of basketball. Voiron like to run and have an interesting post-up game while Charleville like to dominate physically.
Etoile de Voiron Féminin - ASPTT Charleville Mézières
US Valenciennes Olympic - Challes-les-Eaux Basket
---
---
In the other group all the pressure will be on Mondeville who have qualified for the national final four again and hope to win it for the third straight time. Last season the club miscalculated their efforts in NF2 and were relegated back to NF3.
This season they planned things differently and reorganised all their games in NF3. This enabled them not only to win promotion from NF3 but also qualify for the final four. Furthermore Mondeville remain in the U18 (cadettes) French Cup competition. Last season they were eliminated before the quarter-final. The only competition that they did not put a lot of effort in was the Trophée Coupe de France féminine.
Mondeville are looking to win the basketball Coupe de France Cadettes and U18 national final four for the second time, a feat established in 2005.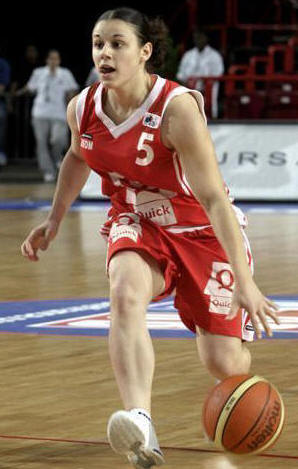 Mélissa Micaletto (left) will be leading her side this weekend as she looks to add the one honour missing from her collection.
Mourenx have also made the Cup a priority this season. They have natured a group of players (who finished 3rd in the U15 championship in 2005) into a collective unit. They also have some of the best travelling fans at youth level. Furthermore Mourenx have in their rangs Amandine Spina and Marion Pujos.
Clermont-Ferrand knocked out Bourges Basket from the cup which was considered to be a surprise. Clermont-Ferrand have made the cup an objective and in the same lines of USVO have a U18 team just for the cup. Hence they missed out qualification for U18 final four but have a good chance of getting to Paris.
Rennes Avenir are regulars to the final stage of the cup. They were semi-finalists in 2006, quarter-finalists in 2007. This is a club that also works with a school so they have various objectives and combinations of teams. By the end of every season they are always in the battle for honours.
USO Mondeville - Mourenx BC
Stade Clermontois AB 63 - Rennes Avenir
---