2008 Basketball Coupe de France winners: Bourges Basket
---
---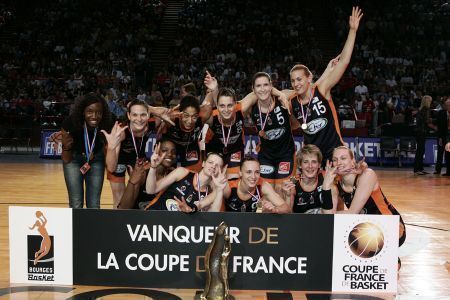 Basketball Coupe de France winners Bourges Basket
Villeneuve have been on the receiving end five times this season against Bourges Basket. For this occasion they were hoping for a change in fortune in the final of the Coupe de France.
They started the match positively and took an early lead (7-3) with less than four minutes in the game. Sonja Kireta, in her last match for Bourges, started to throw her weight around in the paint, drawing fouls and hence frequently visiting the foul line. Her team-mates stepped up in intensity and finished hitting Villeneuve 13-2 to finish the first period in front (18-14).
Bourges never looked in trouble and increased their lead slowly (24-16). By the time Sonja Petrovic scored her first points of the game the advantage had gone past the 10-point mark (33-21). Villeneuve managed to stay in touch at the break with scores from beyond the arc to trail by 8 points at the interval (29-37).
Cathy Melain (left) got the show started in the third period with a trey as Bourges opened with a 9-0 run to stretch their advantage to (46-31). With only Fatimatou Sacko from Villeneuve able to score, Bourges went into the final quarter with a 16-point advantage (51-35).
Géraldine Robert, subdued for the first three quarters, came to life in the final period and Bourges' advantage dropped to (53-43). With just under five minutes to play Céline Dumerc hit a trey for Bourges to put them back in the driving seat. Robert and Sacko had other ideas and Villeneuve reduced the deficit to 8 points (50-58).
With Robert gone for five fouls, Villeneuve did not have the energy to trouble Bourges for the rest of the match and the French Cup final fizzled out with Bourges Basket winning (63-51).
Basketball Coupe de France - French Cup Box Score
---
Return from Coupe de France to "What's New" page
Return from Basketball Coupe de France to Basketball Events
Coupe de France basketball Finals Preview
Coupe de France - Trophée Coupe de France Féminine: Amateur French Cup final match report
Coupe de France Cadette Stabilo final : U18 French Cup final match report
Coupe de France pictures courtesy of the FFBB
Date: 18 May 2008
---