NF2 amateur basketball news round-up with the play-offs in sight
---
---
Amateur basketball news from NF2 group A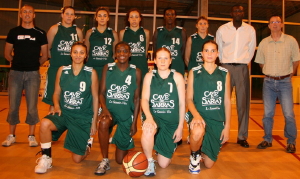 US Laveyron's perfect season continues as they notched up victory number 22 with a comfortable win (97-54) against 7th placed Roqubrune. They will be joined in the end of season NF2 play-offs by Nice Côte d'Azur who beat Venellles (73-49).

Istres that were playing in NF1 last season and asked to drop down to NF2 for this season secured their survival in NF2 for next season with a crucial away-victory (86-75) over Laurentin.
The five clubs at the bottom of the table are fighting it out for the one place to stay in the division. With three weeks left all the clubs still have a chance to avoid relegation.
Amateur basketball news from NF2 group B
US Colomiers had a potential tricky match against fifth placed C. O. Couronnais. Couronnais required a victory to keep their play-off ambitions alive. Unfortunately the game did not live up to expectation as the home side from Colomiers dominated the affair and had the match won early in the final period with a lead of more than 20 points. They went on to win (80-67) and have secured their NF2 play-off spot while Couronnais play-off ambition is no longer in their hand.
In the top class of the weekend between the teams in second and third position, the team from Val de Loire came up top as they pulled off a road victory against Saint Paul Rezé (77-62). This win put them in second position, one game up against Rezé and Feytiat.
At the bottom end of the table Anglet are the only team for that relegation is confirmed. Tarbes Espoir are one of the five teams still in the relegation battle. Yet they have improved their chance of survival as they beat relegation rivals Gimot.
Gimot led for most of the match and were being pegged back after a 7-point advantage (66-66). With nine seconds remaining in the game they had the chance to win the game and avoid overtime. However they missed the opportunity and were punished by the former CFFBB players of Tarbes Espoir, Carole LeClair and Marion Arfelis, during overtime (84-70).
Amateur basketball news from NF2 group C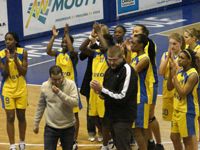 USVO may not be dominating the LFB but their Espoir do. They clinched their play-off spot in the last round. This weekend they recorded their 21st consecutive victory against second placed Ifs (88-74).
USVO can participate in the play-off but cannot be promoted to NF1. Ifs still have one game advantage against Sceaux who also lost (78-85) to AJS Ouistrehem.
Sceaux and Ifs are clubs that have voluntary dropped from NF1 in recent seasons. Even if they qualify for the play-offs they are not likely to move up to NF1. This information is important because Lagadère Paris Racing currently in fourth place won over the weekend and with three games left could still take a play-off spot.
While Evreux, Cherbourg and Nantes are already relegated, Ronchin and Versailles are battling not to join them.
Amateur basketball news from NF2 group D
The SIG have booked their ticket for the play-offs with a routine home victory against Franconville (67-55). The second ticket will go to either Furdenheim or Charnay Macon. Both sides won during the weekend.
With three games left to play Furdenheim have the advantage as they are two games up on Charnay. The two clubs meet on the 12 April. This match may be the decider.
At the bottom end of the table are Nancy and Chalon sur Saône that are already relegated.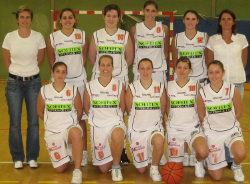 Mulhouse are continuing their late charge. They beat the CFBB (84-60). Allison Vernerey had time to say hello to her team mates from the France U16 team that play for the CFBB before crushing them single handedly with 25 points and 18 rebounds. Mulhouse have three home games to end the season and still have a chance of catching the teams above them.

For Wasquehal life after Laëtitia Kamba has not been easy but they managed to end their recent negative series with a win (75-66) against Aubervillier. The Villeneuve Espoir were never allowed to settle against Furdenheim (58-74) and their match against Mulhouse on 1st April could be a "winner take all" match.
Return from Amateur Basketball News to "What's New" page
Return from Amateur Basketball News to Amateur Basketball
Amateur basketball news pictures courtesy of US Laveyron, US Colomiers, USVO and FC Mulhouse
Date: 01 April 2008
---