Saint Jacques Sport Reims
Ligue Féminine de BasketBall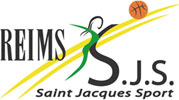 Saint Jacques Sport Reims(SJS) as
Bernard Lavergne
, its president, stated are no strangers to the top division of French women's basketball but in the four years that they have been absent from the Ligue Féminine de BasketBall there have been quite a number of changes which mainly have an effect on the finances of the club.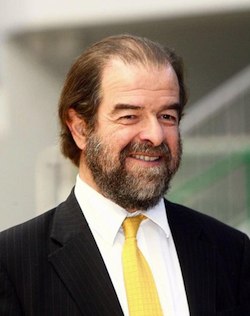 Mr. Lavergne also explained that last season with their NF1 women team they had a similar budget to that when they were in the LFB four years ago. This season back in the professional league requires a colossal financial backup which cannot be compared with the past years. For 2007-2008 his main objective is to have and keep a women's basketball team in the professional league. This of course makes it also necessary to look for more sponsors. Presently Reims' town and the local community agents are the biggest sponsors but the club is working hard, too, with private sponsors. But the competition is rude because of the proximity to other regions with a high interest in sport and naturally with the town's men's basketball and football team. Despite all of this their marking strategy has enabled them to meet their requirements for the present. Though they need to continue to work in this area so that in the future they will be even in a better position to provide their players the right conditions in order to meet all their objectives on and around the basketball court.
He continued that as a club they have a presence in the community, first of all with their basketball academy (centre du formation), which today implies them having a second team playing in the senior category national league (this year NF3) and also in U18 cadettes France (U18 national championship). Furthermore with the experience of Stéphanie Vivenot, an ex-French international player and a member of their last LFB squad, who is working with the club for the development of their basketball school of the young (école de basket) and their other youth teams playing at different levels in the region depending on their ability they are promoting women's basketball in Reims.

Here are some comments in French by Bernard Lavergne.
---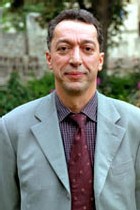 Philippe Sauret, who has been working with Saint Jacques Sport for the last 15 years in various capacities but mainly as head coach, mentioned at the beginning of the interview that - in his eyes - the biggest difference between today and yesterday's LFB is the budget. There is no secret that their club has one of the lowest budgets in the league. On the playing field also things have changed during the last years: In the past Bourges and USVO dominated the league, but since the export of French players to foreign leagues the gap is not so wide. The distribution of players amongst the clubs is more harmonious, therefore making the championship more open as no match is won in advance.
Then Mr. Sauret said that it was always the objective for Reims to return to the LFB and with their basic structure remaining in place and the development of the young ones in the club they have now been successful. And for their first season back it is important for them to establish themselves again in this championship. Hence their main objective is to stay in the LFB and go for the play-offs. Naturally the team has changed over the four years while his club was in NF1 but they have remained confident with their youth development system and are now playing with some of them in the Ligue Féminine de BasketBall. They know it will be difficult but it is hard for all the LFB teams. Looking back at their first few games in this season it has not been bad, though they must win their home matches especially against the teams that are ranked close to them. With these victories in their pocket they will be able to start thinking of the play-offs. Still there is a long way to go.


Here are some comments in French by Philippe Sauret about the objectives for the season.
---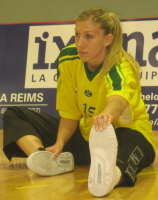 Marie-Laurie Kindoki-Fleury has a NF1 championship medal in 2003 with Calais and missed out on a second medal with Reims because she spent last season playing for Mondeville. On the 25th April 2007 her performance against Montpellier in the quarter-final playoff is now part of Mondeville's folklore as she led her side in scoring as they beat Montpellier in the first leg (83-72) on their way to the semi-final.
That was then and now she is back with the task of leading a young side into the LFB, Marie Laurie and Zuzana Klimesova, at only 28, are the veterans in this team.
Marie-Laure said that she already knows the club and how they operate and this year it is a new team in a new championship after some time in NF1. The aim of the club is to stay in the league and to achieve - that it is important - to win as many games at home as possible to facilitate their task and naturally win some games away so that they can escape the dog fight concerning possible relegation at the end of the season.
Concerning their LFB team roster which is made up of young players this could be viewed as their strongest asset but at times it is also viewed as a weakness. In a few words this is a team that is motivated, exciting, hard working and do not give up and since the beginning of the season have already demonstrated that they are not here for the ride. Their participation should be interesting for the rest of the season. The Open LFB was an experience that did end well for them and naturally the players were disappointed when they lost. Okay it was against USVO and lessons can be drawn from it but in the end they were defeated and that hurt. USVO are a good team and when they played them she was of the opinion that the opponents were not 100% ready. So it was probably the best time to play them. That is history and the overall performance for the team was good but they have to move on.
Marie-Laure does not only play basketball but she invests some of her time training the youngsters at the club. She likes to share her experience playing basketball with children and introduce them to the game. She is of the belief that it is very important for young players to have a chance to pick up a trick or two from active players which hopefully reinforce what they learn from other coaches. Working with very young players is emotionally rewarding and interesting.

Marie-Laure gives a short description in French of Reims 2007-2008.
---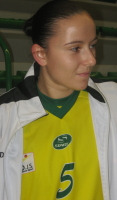 Reims have had a policy of working with young players and Anne-Sophie Pagnier is a typical example. She is a product of the French basketball youth system. In her early teens she played representative basketball for her region and was integrated into one of the basketball centres of excellence at 14/15 of age (Pôle Espoir Nord/Pas-de-Calais). On leaving this structure she moved on to the CFBB.
She had a big decision to make after leaving the CFBB. She had many offers from different clubs and chose to join Reims in NF1 because of study options. She explained that she did not have the best of grades. Reims offered her the best structure to play basketball and continue to study in parallel. The good news for her is that she passed her A' levels (baccalauréat) and afterwards has obtained a professional diploma in accounting. The promotion to the LFB is just the icing on the cake.
Anne has also had the experience of participating for France at U18 and U20 at European championships winning both times a bronze medal. She enjoyed playing for her country at these championships, it is something special to her.
At Saint Jacques Sport things are good, the roster is complete with the arrival of Mia Fisher and now they will try and win as many games as possible to stay in the LFB, the Ligue Féminine de Basketball.

Anne-Sophie explains why she joined Reims after leaving the CFBB and how things are at the club in French.
---
Anne-Marie Parau is Romanian and has joined Reims after a season playing for Dexia/Namur in Belgium. She said she was very happy at St. Jacques and she added that this team is very young and for the moment things are going well. She indicated that she picked up some French while in Belgium so she feels also alright with the language here.
Anne-Marie at the age of 23 is already a very experienced international player starting her professional career in her country seven years ago. Already in 2001 she participated in EuroBasket Women and four years later she had the chance to participate again for Romania.

---
Mia Fisher only joined Reims a week ago and is already enjoying the challenge. She comes from the USA and has been playing in Turkey for the last two seasons. On the audio you will find out more about her first impressions of playing basketball in France.
---
The Basketball academy, known in French as the centre de formation, is run by the assistant coach of Philippe Sauret, Olivier Audegond. With the promotion of the first team to LFB French rules dictate that the club must have a second team playing in the national league. For Reims it is this year in NF3, nationale féminine 3 with Olivier Audegond as coach. Last Saturday this squad played the opening match before the fourth round of LFB at the sports hall René Tys. As already mentioned by Anne-Sophie Pagnier the club tries to help young women players to play basketball and go on to higher education. In this squad there are a medical, a law student and a BTS students (higher national diploma). Furthermore there are five U18 players who are still in school. And the squad has also an experienced player, Stéphanie Blanquart, who helps them with their court awareness and she is also on the LFB team roster.
Furthermore the centre de formation has a U18 team playing in the national championship with Stéphanie Vivenot as coach.
Saint Jacques Sport Reims is a pure women's basketball club that has the potential and the infrastructure to compete on the highest level in women's basketball in France. It also offers beside the basketball career the possibility for young players to study.


Return from Saint Jacques Sport Reims to Women Playing Basketball
Last update:13 November 2007