NF1 round 14 hiccups for the leaders
A weekend of surprises in NF1 round 14 with defeats to the two leaders: Charleville-Mézières and Basket Landes
Charleville-Mézières, playing at home, were expected to walk away with a victory against Armentières. Charleville went into the interval leading by 6 points but came out of the third period trailing by 2 points. In the beginning of the final quarter Sandrine Capelle (21 points - left in picture) was decisive for Armentières who started to take control. Her team mates Katerina Pilyashenkà and Virginie Bremont then took over as their side dominated the last six minutes of the match to win (72-57).
Basket Landes missed the opportunity of going top of the table as they surprisingly went down to bottom club Pleyber-Christ (85-67).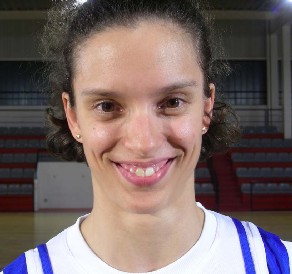 With these two top teams going down Nantes Rezé was able to join them in first place as they beat Lyon (84-66) with 22 points coming from Vincenta Santa Cruz(left).


Limoges made live easy for Nice as they allowed them to gain an early advantage 20-5. Nice then went on to pace themselves to victory (80-70). La Roche's winning streak continues as they beat Lot et Garonne UST (73-55). In a match between two of the newly promoted teams Rennes ran out winners (80-65) against Voiron.
Racing Strasbourg got back to winning ways after last weekend's hiccup with a (78-58) victory against SMUC Marseille. Adia Fall from Strasbourg finished with a double-double 20 points and 12 rebounds. She was beaten in the shooting stakes by Sophie Seguin of Marseille who also had a double-double of 25 points and 10 rebounds.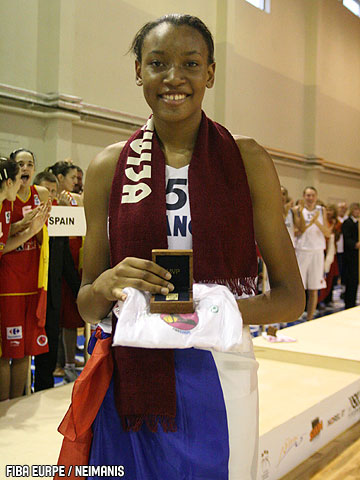 The one lady missing from the FIBA Europe young woman player of the year nomination list is 16-year-old Diandra Tchatchouang (left in picture). She led the CFBB with 27 points (11 rebounds) as her team lost to (89-82) to Dunkerque in the last game of NF1 round 14.
NF1 is now on break for Christmas and action will resume in the first weekend of January.

---
Nationale Fèminine 1 Basketball League Standing
| | | | |
| --- | --- | --- | --- |
| 1. | Charleville | 25 Pts | 11-3 |
| 2. | Nantes Rezé | 25 Pts | 11-3 |
| 3. | Basket Landes | 25 Pts | 11-3 |
| 4. | Dunkerque | 23 Pts | 9-5 |
| 5. | Armentières | 23 Pts | 9-5 |
| 6. | Nice | 23 Pts | 9-5 |
| 7. | Strasbourg | 22 Pts | 8-6 |
| 8. | INSEP(CFBB) | 21 Pts | 7-7 |
| 9. | Lot Gar UST | 21 Pts | 7-7 |
| 10. | Rennes | 21 Pts | 7-7 |
| 11. | Limoges | 20 Pts | 6-8 |
| 12. | La Roche | 20 Pts | 6-8 |
| 13. | Voiron | 17 Pts | 3-11 |
| 14. | Pleyber Christ | 17 Pts | 3-11 |
| 15. | Lyon | 17 Pts | 3-11 |
| 16. | Marseille | 16 Pts | 2-12 |
Return from NF1 round 14 to Amateur Basketball

Pictures courtesy of the FFBB and FIBA Europe
Date:18 December 2007