Nationale Fèminine 1: NF1 round 13 summary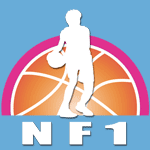 No joy for teams at the bottom of the table after NF1 round 13.

---
Anaïs Le Gluher scored 28 points for Basket Landes as they held off Dunkerque (95-91). This victory has consolidated their position as joint leaders with Charleville-Mézières who had a an easy road victory against SMUC Marseille (91-40).
Nantes lost touch with the leaders as they were beaten by Nice (72-56). Nantes trailing by 18 points at the interval managed to cut their deficit to only 7 points midway through the third period. Stéphanie Pogon and Evija Azace (21 points and 9 rebounds) of Nice had the last word in this match as Nice have moved into joint fourth place.
Armentières made light work of Racing Strasbourg (86-55). Strasbourg travelled without their coach Abdel Loucif and were walloped (38-5) after the first period and allowed the hosts to extend their lead to 40 points (48-8) early in the second quarter. Strasbourg's 17-year-old Joanna Ratzel hit 4-of-7 from beyond the arc to lead her team scoring with 14 points while Katya Pilyashenko and Sandrine Capelle finished with 20 points apiece for Armentières.
Elsewhere in the league the CFBB led with 33 points by Laurie Datchy and had no problems against Pleyber-Christ (89-68), while La Roche confirmed that their victory last week was not a flash in the pan as they beat Voiron away (95-86). Lot et Garonne UST almost let a 15-point lead evaporate in the final period as they hung on to beat Rennes (80-78).
Lyon lost a heart breaker at home (78-84) in overtime to Limoges. Lyon thought that they had the game won leading 74-67 as the game went into money-time. However Limoges clawed the score back slowly and then tied the game after Maryska Kowalik hit a bomb from long distance.
Nationale Fèminine 1 Basketball League Standing
| | | | |
| --- | --- | --- | --- |
| 1. | Charleville | 24 Pts | 11-2 |
| 2. | Basket Landes | 24 Pts | 11-2 |
| 3. | Nantes Rezé | 23 Pts | 10-3 |
| 4. | Armentières | 20 Pts | 8-5 |
| 5. | Dunkerque | 21 Pts | 8-5 |
| 6. | Nice | 21 Pts | 8-5 |
| 7. | INSEP(CFBB) | 20 Pts | 7-6 |
| 8. | Strasbourg | 20 Pts | 7-6 |
| 9. | Lot Gar UST | 20 Pts | 7-6 |
| 10. | Limoges | 18 Pts | 6-7 |
| 11. | Rennes | 19 Pts | 6-7 |
| 12. | La Roche | 18 Pts | 5-8 |
| 13. | Lyon | 16 Pts | 3-10 |
| 14. | Voiron | 16 Pts | 3-10 |
| 15. | Pleyber Christ | 15 Pts | 2-11 |
| 16. | Marseille | 15 Pts | 2-11 |
Return from NF1 round 13 to Amateur Basketball