Confirmation of LFB team roster changes
Tarbes:
The first LFB team roster change of the season happened at Tarbes. Nelli Nevzorova, 36-year-old Ukrainian, 1.90m, qualified on 2nd November as medical cover for Isabelle Yacoubou-Dehoui.
Furthermore the Management of Tarbes have decided to terminate the contract of Pascal Pisan with immediate effect because the results so far have been disappointing: Tarbes have only won one match in the Ligue Féminine de BasketBall this season. Yet the club acknowledged the good work he did in the past four seasons.
His replacement is Patrick Maucouvert (45 years) who was the assistant coach at Clermont-Ferrand(LFB) last season. Maucouvert has plenty of experience in coaching teams in the men's professional league (LNB) in France in PRO A as well as in PRO B. In 1997 he led Maurienne to the PRO B title.
Aix-en-Provence: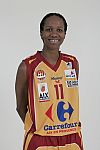 Kelly Santos has decided to leave the club and has already signed with Femenino Badajo of the Liga Femenina in Spain. Nathalie Lesdema (left) has extended her contract for another month until December 16th.
It has been announced that Sherill Baker, who finished the WNBA season with Los Angeles Sparks is considering an offer to join them. Last season she played in Italy with Ines Kresovic. (Picture courtesy of LFB)
Villeneuve d'Ascq:
Jucimara Dantas is the replacement for Iveta Marcauskaite at Villeneuve d'Ascq and has signed with Villeneuve until the end of the season. The 29-year-old 1.90m Brazilian is better known in France as Mama Dantas.
She has already four seasons experience in the Ligue féminine de BasketBall:
2001 - 2002 Nice (stats: 10.6 points and 7 rebounds per game)
2002 - 2003 Nice (stats: 14.8 points and 6 rebounds per game)
2003 - 2004 Mondeville (stats: 14.8 points and 6 rebounds per game)
2004 - 2005 Mondeville (stats: 9.8 points and 6 rebounds per game)

She is a Brazilian international and was a member of the 2001 FIBA Americas winning squad and more recently won a Bronze medal at the 2007 edition of the same competition.
Reims:
Mia Fisher, 24-year-old American, officially qualified for Saint Jacques Sport Reims on 2nd November.

Return from LFB Team Roster to LFB Directory Index