LFB Round 7: USVO snatch victory whereas Sheana Mosch cleans up shop
A summary from some of the LFB games in round 7 with team rosters and statistics:
You will be able to jump to any Ligue Féminine de BasketBall match summary by clicking on the link below or by scrolling down the page.
1. Mourenx 81-88 Arras
2. Bourges 74-49 Montpellier
3. Mondeville 80-65 Reims
4. Challes-les-Eaux 68-59 Tarbes

Team rosters and statistics only for the following LFB matches:

5. Villeneuve 60-48 St Amand
6. Clermont 66-68 Valenciennes
7. Aix-en-Provence 75-66 Calais

---
Mourenx 81-88 Arras (21-11, 24-26, 17-26, 19-25)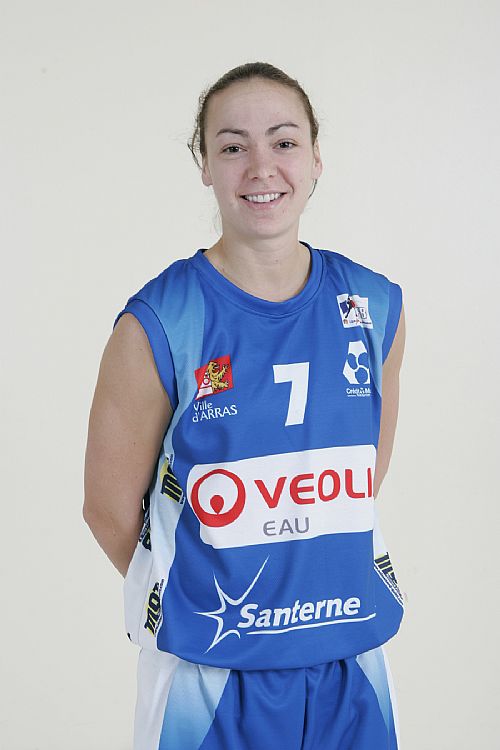 Sheana Mosch (left) had only 3 points in the first half of the match but finished as top scorer with 26 points after an incredible second-half performance where she scored the last 6 points for Arras in the closing minutes to make the comeback perfect. While Mosch will take all the headlines the performance of Marielle Amand (18 points, 8 rebounds and 3 assists) for Arras should not be forgotten.
Arras found it very difficult at the beginning of the game as Mourenx' head coach Pascal Delaliaux put a plan in place to keep Mosch and Carla Thomas quiet. With Virginie Kévorkian back to her best and Ana Lelas' return to the team after her injury Mourenx had the better of the first period and build a 10-point lead (21-11) going into the second quarter.
Mourenx continued to be aggressive and did not appear to be handicapped with Kaayla Chones having to sit out for a while due to early foul problems. With Mosch and Thomas for Arras still scoreless they increased their advantage (28-17) midway through the second period. Yet Arras managed to stay in contact and when Mosch scored her only points, a trey in the first half, they had finally brought their deficit to under 10 points(34-26). Chones now back on court was in the thick of action as Mourenx held on to their advantage despite the efforts of Thomas as she also put her first points on the board (45-35).
The break definitely did Arras some good as they scored 12 unanswered points in the first three minutes of the third period to silence the home crowd and take the lead (47-45). For the rest of the quarter they exchanged basket for basket with Arras up (63-62) going into the last quarter.
Right from the inbound Mosch's fourth-quarter show started immediately by scoring the first points. Polina Tzekova was quick to respond for the hosts as both sides continued their festival of offensive basketball. Arras finally made what became the game's decisive moment as they hit 6 unanswered points (78-71) to take control of the match with five minutes remaining. The scoring rate slowed down and the hosts came to within 3 points after scores from Lelas, Penda Sy and Isis Arrondo (82-79). The last two minutes belonged to Mosch as she drew a foul that took her to the free-throw line. She hit her free-throws and moments later intercepted a wayward pass concluding with a lay-up. Afterwards she completed the sequence of 6 points with a jumper to put the game out of reach for their hosts (88-79) with less than 40 seconds left in the game.
LFB Roster and scores:
Mourenx: Virginie Kévorkian 17 (8 assists), Isis Arrondo 5, Justine Agbatan 2, Penda Sy 14, Ana Lelas 22, Béatrice Castets 0, Kaayla Chones 11, Polina Tzekova 11

Arras: Carla Thomas 12 (10 rebounds), Bianca Vescan 2, Sheana Mosch 26, Natasa Ivancevic 13, Sylvie Gruzzczynski 6 (5 assists), Mélanie Arnaud 7, C Octave 0, Marielle Amant 18, Anais Déas 4

Sheana Mosch 4-of-5 3-pointers remaining top of the LFB scoring average
Go back to the top of the page.
---
Bourges 74-49 Montpellier (29-6, 19-8, 11-18, 15-17)
The LFB match did not live up to its expectation and was a non-event if not for a moment of inspiration from Belinda Snell in the first period.
It is difficult to explain the first three minutes of the game as both teams managed to practically miss everything. Pierre Vincent's facial expression said it all as he appeared at loss to explain what was going on. Last season Bourges' excellence in defence was enough to crush most teams on their home court. All of a sudden they switched to one-to-one defence which totally confused their opponents and the score board read (11-0). The only point for Montpellier came from the free-throw line. Snell (11 points in the first period) then inflicted more pain on their guests as she gave a perfect display in the art of distance shooting. Leading (16-3) it was the turn of Céline Dumerc, Cathy Melain and Sonja Kireta to add to Montpellier's misery as they finished with a 13-3 run to lead (29-6) going into the second quarter.
Bourges continued their demolition of Montpellier increasing their advantage (35-6) before Sandra Dijon managed to get to the free-throw line and add another point for her team. By the interval Bourges had killed the game off as a contest (48-14).
During the next two quarters of the match Montpellier started to play much better and finally started to hit some baskets. The deficit came down slightly but not enough to trouble the hosts and although the second half of the match was more pleasant to watch Bourges did not have to work too hard and once again Pierre Vincent turned his bench and, apart from Miyem, nobody played for more than 23 minutes.
Bourges stay on top of the LFB standings.
LFB Roster and scores:
Bourges : Sonja Petrovic 2, Belinda Snell 15, Cathy Melain 4, Endene Miyem 17, Céline Dumerc 4 (5 assists), Carine Paul 5, Sonja Kireta 7, Flo Lepron 6, Emméline N'Dongue 10, Nora Bujdoso 4
Montpellier: Katia Manic 4, Grace Daley 6, Chris Jouandon 4, Gunta Basko 2, Olga Podkovalnikova 6, Aurélie Bonnan 15, Sandra Dijon 6, Moises Pinto 6

Go back to the top of the page.
---
Mondeville 80-65 Reims (19-14, 24-21, 19-14, 18-16)
After a hesitant start from the hosts and the game tied (8-8) Mondeville put together an 8-0 run which was enough to give them the lead (19-14) by the end of the first period.
A change in defensive tactics in the second quarter by Reims kept Mondeville scoreless for more than two minutes while the guests tried to reduce the deficit. Anne-Marie Parau from Reims scored 6 consecutive points to give Reims a brief advantage. Yet they had problems defending the perimeter and Leane Williams restored the lead for good for Mondeville with a 3-point shot. Caroline Aubert hit another 3-pointer to complete an 8-0 run. Philippe Sauret sensing that the game was about to escape from their hands called for a time-out.With her side trailing (37-29) Parau went on a one lady crusade as she tried to bring Reims back into the game but just as they appeared to come close Pauline Jannault hit a 3-pointer to take Mondeville into the break (43-35) with an 8-point lead.
Both sides traded basket for basket at the start of the third period with the hosts extending their advantage (51-41). Mondeville, now firmly in control, accelerated their offensive options and went into the final quarter (62-49).
Then Reims had one last go at attacking the hosts but once they lost Klimesova for her fifth personal foul (71-55) any hope of coming back was gone. The guests never recovered leaving the road open for Mondeville to win comfortably (80-65).
LFB Roster and scores:
Mondeville: Paoline Salagnac 20 (5 assists), Caroline Aubert 15 (6 assist), Ingrid Tanqueray 2, Jennifer Digbeu 11, Leane Williams 9, Mélissa Micaletto 0, Naura El Gargati 9 (12 rebounds), Pauline Jannault 14
Reims: Amélie Frenais 0, Anne-Sophie Pagnier 4, Mame Marie Sy 2, Anne-Marie Parau 18, Stephanie Blanquart 0, Frédérique Ayissi 4, Manon Sinico 3, Zuzana Klimesova 14, Mia Fisher 6, Marie-Laure Fleury-Kindoki 14
Go back to the top of the page.
---
Challes-les-Eaux 68-59 Tarbes (11-12, 22-7, 23-19, 12-21)
Not much luck for both teams in the opening phase with the home side leading (4-3). The cat and mouse game between Challes and Tarbes continued with Jessica Davenport and Tiffany Jackson scoring all points for Challes (8-8) while Liz Moeggenburg was the main scorer for Tarbes. Then Challes varied their offensive option creating space for Johanne Gomis to hit one from beyond the arc for her side to go in front shortly, Tarbes countered back and finished the first period in front (12-11).
Both sides continued to miss a lot of their shots and the score keeper had little to do during the first six minutes with the score level (17-17). Martina Luptakova from Challes had enough and decided to show her team-mates the way to the basket and went on to score 9 points as her side finished the second quarter with a flourish (16-2) to go into the interval with a significant advantage (33-19).
Challes paced themselves and scored regularly from the perimeter to keep their guests at bay (46-30) and by the end of the third quarter increased their advantage slightly (56-38).
The final period turned into a formality for the hosts as their lead increased (65-45) which gave Corinne Benintendi the opportunity of allowing her younger players valuable court time for the last five minutes. Tarbes could only reduce the deficit by 11 points and lost for the sixth straight time in the LFB.
LFB Roster and scores:
Challes-les-Eaux: Tiffany Jackson 15 (6 steals), Clare Vanhoutreve 1, Laine Badiane 6, Emilie Duvivier 5, Slavka Frniakova 9, Stéphanie Dubois 2, Johanne Gomis 6 (5 assists), Martina Luptakova 20 (6 steals), Jessica Davenport 4, Marie Bacquet 0
Tarbes: Kristen Mann 17, Laure Savasta 3, Jaklin Zlatanova 2, Clémence Beikes 14, Nelli Nevzorova 9, Alexia Kusion 0, Liz Moeggenberg 10, Gisela Vega 4

Go back to the top of the page.
---
Villeneuve 60-48 St Amand (29-9, 4-18, 14-12, 13-9)
LFB Roster and scores:
Villeneuve: Bintou Diémé 4, Bénédicte Fombonne 7, Jucirama Dantas 2, Ljubicaa Drljaca 18 (8 rebounds), Géraldine Robert 8, Kathy Wambe 6 (8 assists), Fatimatou Sacko 9, Shala Crawford 6 (4 steals), Jasmina Ilic 0

St Amand: Tiffany Stansbury 15 (13 rebounds), Marie Fouteret 4, Mélanie Plust 2, Clarisse Costaz 1, Magali Lopez 4, Tamara Moore 4, Laëtitia Kamba 0, Inès Ajanovic 8 (10 rebounds), Olena Ogorodnikova 10
Go back to the top of the page.
---
Clermont 66-68 Valenciennes (17-17, 23-18, 11-21, 15-12)
LFB Roster and scores:
Clermont: Anael Lardy 0, Claire Tomaszewski 9, Guiday Mendy 4, Jennifer Butler 2 (10 rebounds), Pauline Krawczyk 15, Claudia Das Neves 18, Vita Kuktiene 6, Noémie Lemaire 0, Elena Nikipolskaïa 12
Valenciennes: Camille Aubert 0, Laurie Koehn 0, Francesca Zara 16, Amélie Pochet 2, Emilie Gomis 18, Krissy Badé 4, Sabrina Reghaissia 4, Nicole Ohlde 14 (9 rebounds), Reka Cserny 10
Go back to the top of the page.
---
Return from LFB Match to LFB Information Directory
(The pictures on this page is courtesy of the Ligue Féminine de BasketBall)