LFB Round 5
Round 5 match summaries with LFB roster details and individual points.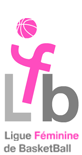 Challes-les-Eaux battled with ASPTT Arras for 25 minutes at home before finally taking control to win by 20 points. Clutch 3-point shooting gave Mondeville the edge on the road against Calais, while Villeneuve, also on the road, had no problems in beating Mourenx.
You will be able to jump to any LFB match summary by clicking on the link below or by scrolling down the page.


Calais 61-76 Mondeville

Challes-les-Eaux 87-67 Arras

Mourenx 45-56 Villeneuve d'Ascq

The LFB matches on Sunday
All the victories were for the home teams: Bourges were given a scare by St Amand, while USVO had to work hard against Tarbes. Aix convincingly won at last in a LFB game against Reims, while Clermont beat Montpellier.
Bourges 72-64 St Amand

Aix-en-Provence 76-45 Reims

Valenciennes 70-64 Tarbes

Clermont-Ferrand 89-75 Montpellier
(Only LFB points - No report for this game)
---
Calais 61-76 Mondeville (16-14, 19-24, 12-19, 14-19)
After two defeats Mondeville came into this match with one objective than to walk away with maximum points against a side that have surprised them in recent seasons. Calais, on a high after last week's victory, made things as difficult for their guests before conceding defeat in the latter stages of the LFB match.
It was Mondeville that got off to a good start in the opening period with Paoline Salagnic scoring 6 of her side's 8 points as they took an early lead. Calais took advantage in a drop of intensity by their guests and rattled off 10 consecutive points to go in front (14-8). Calais finished the first quarter with 2 points ahead (16-14). The second period turned into an offensive treat as both teams abandoned defence for attack, a tactic which favoured Mondeville as they put 8 unanswered points after 15 minutes playing to take a hold on the game (33-27). Mariame Dia for Calais whose season has been quiet so far gave one of those performances that inspires other players to step up. Thanks to her inspiration her team came to within 2 points (35-33) before Salagnac completed a 3-point play for her 13th point of the evening to restore Mondeville's 5-point advantage before Dia responded with her 10th point of the evening to reduce the deficit at the interval (38-35).
Allyson Hardy, in foul problems early on, was not a factor in this game but with Lucie Bouthors and Aurélie Cibert holding the fort Calais tied the match (45-45) midway though the third period. The control of the game switched quickly to the guests after they hit back-to-back treys by Caroline Aubert and Leane Williams in a 12-0 run. Hardy scored her only points of the match to stop the run but her side trailed (57-47) going into the final quarter.
Once Aubert finds her mark from beyond the arc then it is important to keep an eye on Pauline Jannault because she has a habit of hitting shots beyond 6m25. Unfortunately for Calais, Aubert and Jannault decided to put this theory into practise as they hit trey after trey in the closing minutes as Mondeville cruised to victory in this LFB encounter.
Calais: Andrea Csaszar 13, Allyson Hardy 2 , Lucie Bouthors 9, Mariame Dia 12, Aurélie Cibert 6, Lina Brazdeïkyte 13, Lauren Neaves 6 (11 rebounds), Florine Courby 0

Mondeville: Paoline Salagnac 19, Caroline Aubert 20 (7 assists), Ingrid Tanqueray 0, Jennifer Digbeu 10, Leane Williams 3, Naré Diawara 5, Naura El Gargati 3, Pauline Jannault 16

Aubert 4-of-6 three pointers, Jannault 4-of-8 three pointers

Go back to the top of the page.
---
Challes-les-Eaux 87-67 Arras (18-21, 21-19, 24-9, 24-18)
Sheana Mosch and Carla Thomas for Arras and Jessica Davenport and Martina Luptakova for Challes scored all the points in the opening of the LFB match (7-7). The early exchange was fast and furious as both sides exchanged basket for basket with neither team getting away (15-15). Natasa Ivancevic scored the last points of the first period for Arras to take a 3-point advantage (21-18). Challes and Arras continued their offensive battle during the second quarter with several lead changes as both sides remained close. Thanks to Thomas' last points of the second period Arras went into the interval with a 1-point advantage (40-39). Mosch had already scored 15 points for Arras, while for Challes Johanne Gomis 11 and Laptakova 12.
The see-saw battle continued until Davenport for Challes had to leave the court after picking her fourth foul requiring a tactical change by her head coach, Corinne Bennintendi, bringing Tiffany Jackson back into the frey (49-51). Her immediate contribution resulted in drawing fouls, taking rebounds, dishing out assists and scoring a few points Challes opened the first significant lead of the match (63-51).
There was no let-up for Arras as Challes completed a 22-point run spread over two quarters (71-51). Mosch tried her best to bring her side back into the match in the remaining eight minutes but by herself it was not possible to stop the collective unit of Challes-les-Eaux. Challes stay in third position in the LFB table.
Challes-les-Eaux: Tiffany Jackson 5, Claire Vanhoutreve 0, Laine Badiane 4, Emilie Duvivier 0, Slavka Frniakova 14 (8 assists), Stéphanie Dubois 6, Johanne Gomis 11, Martina Luptakova 26 (10 rebounds, 6 steals, 5 assists), Jessica Davenport 17, Marie Bacquet 2
Arras: Julie Bertin 0, Carla Thomas 11 (9 rebounds), Bianca Vescan 0, Sheana Mosch 29, Natasa Ivancevic 9, Sylvie Gruz 1 (5 assists), Mélanie Arnaud 0, Marielle Amant 11, Anais Déas 6

Mosch 5-of-8 three pointers
Go back to the top of the page.
---
Mourenx 45-56 Villeneuve d'Ascq (7-18, 12-16, 11-12, 15-10)
Mourenx, still in shock from last weekend's hammering in the LFB, were absent for the first five minutes allowing Villeneuve to open a significant lead (11-2). Playing at home and also live on the radio Mourenx picked themselves up and started to play basketball to make the closing of the first period interesting as they finally found their way to the basket but still trailed (18-7). Kathy Wambe continued to dish out assists (8 at the interval) while Géraldine Roberts and Ljubicaa Drljaca continued to score with Villeneuve increasing their advantage at the interval to (34-19). Afterwards the game lost its intensity so Villeneuve paced themselves to take a comfortable advantage (46-30) going into the last period. Their head coach, Abdou N'Diaye gave him the opportunity to turn his bench and conserve their energy for next week's EuroLeague game.
Mourenx: Virginie Kévorkian 0, Isis Arrondo 4, Justine Agbatan 2 (5 assists), Penda Sy 4, Ana Lelas 5, Béatrice Castets 3, Kaayla Chones 8, Polina Tzekova 19

Villeneuve: Bintou Diémé 2, Bénédicte Fombonne 0, Ljubicaa Drljaca 11, Géraldine Robert 16, Kathy Wambe 9 (9 assists), Fati Sacko 10, Shala Crawford 8, Jasmina Ilic 0

Go back to the top of the page.
---
Bourges 72-64 St Amand (21-12, 15-17, 11-21, 25-13)
Sonja Kireta and Endene Miyem scored all the points for Bourges as they raced off to an early lead (14-5). When both players retired to the bench, St Amand managed to slow down the pace of their opponent's attack for a short while (14-8). Carine Paul then got Bourges quickly back on the offensive trail with a trey to end the first period leading by a 9-point advantage (21-12).
St Amand, more collective in the second quarter, reduced their deficit to 6 points at the interval (36-30).
Then after the break Ines Ajanovic from St Amand came out firing and caused Bourges all kinds of problems. And eventually St Amand came back to level terms (41-41) after a 3-point play by Tiffany Stansbury. Belinda Snell for Bourges, scoreless until now, hit a trey for her team to go back in front. The lead did not last long: first Laëtitia Kamba came up with some valuable points, then Stansbury put St Amand in front and then Mélanie Plust finished the quarter with a trey for her club go into the final period (51-47).
The response from Bourges was immediate when they hit 8 quick points to open the final quarter. To make things worse for St Amand Ajanovic picked up her 5th personal foul on Snell (59-51). Yet for St Amand Olenena Ogorodnikova and Clarisse Costaz were on hand to score back-to-back baskets and the comeback was almost complete when Magali Lopez made it a 2-point game (59-57).
Bourges' Snell coolly hit a trey off the pass from Cathy Melain and when Sonja Petrovic put in a couple of free throws, it appeared that Bourges had the control once more (64-57). Ogorodnikova replied with a 3-pointer as her side refused to be put down and she made it a 2-point game (66-64) just as the match entered into money time. This was as close as St Amand managed to get because Petrovic had other ideas and scored 4 of the last 6 points to win (72-64).
Bourges remain first in the LFB standings.
Bourges: Sonja Petrovic 12, Belinda Snell 14 (5 assists), Cathy Melain 4, Endy Miyem 11, Carine Paul 7, Sonja Kireta 11 (12 Rebounds), Florence Lepron 4, Emmeline N'Dongue 4, Nora Bujdoso 5
St Amand: Tiffany Stansbury 9, Marie Fouteret 3, Mélanie Plust 3, Clarisse Costaz 10, Magali Lopez 9, Laëtitia Kamba 5, Inès Ajanovic 12, Olena Ogorodnikova 13
Go back to the top of the page.
---
Aix-en-Provence 76-45 Reims (19-12, 19-10, 17-13, 21-10)
Liad Suez Karni and Ines Keesovic were very active for Aix in the beginning of the match scoring between themselves the first 9 points for Aix (9-8). Reims went through a poor patch offensive wise when the ball refused to drop allowing the host to increase their advantage (17-8). Anne-Marie Parau finally ended the drought for Reims with a bucket as they went on to finish the period on a 5-0 run to trail (19-12).
Aix went on the rampage during the second period as they completely dominated the match going up by 20 points (38-17) and finally went into the break with comfortable advantage (38-22).
Aix took advantage of the absence of Marie-Laure Fleury-Kindoki as they maintained their lead (46-27). Suez Karni and Kresovic continued their scoring festival for the host and paced themselves all through the third quarter going into the final period with a big advantage (55-35). The last quarter was a simple formality for the home side as they cruised to victory (76-45).
For Aix-en-Provence this is the first victory in the LFB this season.
Aix: K.B Sharp 5 (6 assists), Joyce Cousseins-Smith 5, Liad Suez Karni 17, Ines Kresovic 15, Magali Lacroix 8, Nathalie Lesdéma 6 , Yacine Séné 2, Anda Jekabsone 6, Stéphanie Beuzelin 9, Kelly Santos 6
Reims: Amélie Fresnais 2, Anne-Sophie Pagnier 0, Mame- Marie Sy 4, Anne-Marie Parau 10, Stéphanie Blanquart 0, Marie-Frédérique Ayissi 2, Manon Sinico 4, Zuzana Klimesova 13, Mia Fisher 10
Go back to the top of the page.
---
Valenciennes 70-64 Tarbes (20-14, 12-19, 18-18, 20-13)
Yet again USVO had a difficult encounter in this LFB match: Tarbes set the tone of the match from the start scoring the first 4 points.
Amélie Pochet
and
Francesca Zara
reassured the home side with points from the land of many and put them in front maintaining a 6-point advantage at the end of the first period (20-14). Tarbes had the better of the second quarter and were level after 17 minutes (27-27) and then went into the interval leading (33-32).
Tarbes went all out in the third period and opened up a gap (47-40) midway through the quarter with Kristen Mann and Gisela Vega causing havoc. USVO weathered the storm and trailed by 1 point going into the fourth quarter (50-51). The last period was end to end stuff with the experience of USVO seeing them through.
USVO remain remain in second position in the LFB standings.
Valenciennes: Camille Aubert 0, Laurie Koehn 0, Francesca Zara 11 (5 assists), Amélie Pochet 9, Emilie Gomis 18, Krissy Badé 4 (5 assists), Sabrina Reghaissia 2, Nicole Ohlde 14, Reka Cserny 12
Tarbes: Kristen Mann 12 (6 assists & 4 steals), Laure Savasta 4 (4 steals), Jaklin Zlatanova 5, Clémence Beikes 9, Nelli Nevzorova 8, Alexia Kusion 0, Liz Moeggenberg 10, Gisela Vega 16

Go back to the top of the page.
---
Clermont-Ferrand 89-75 Montpellier (22-23, 15-19, 17-11, 35-22)
LFB Roster points only:
Clermont: Anael Lardy 2, Claire Tomaszewski 17, Alexia Ros 0, Guiday Mendy 6, Jennifer Butler 2, Pauline Krawczyk 8, Claudia Das Neves 15, Vita Kuktiene 23, Noémie Lemaire 0, Elena Nikipolskaïa 16
Vita Kuktiene 5-of-8 three pointers
Montpellier: Katia Manic 4, Grace Daley 15, Chris Jouandon 8, Olga Podkovalnikova 8, Aurélie Bonnan 18 (5 assists), Charline Servage 0, Sandra Dijon 10, Adrianinha 15 (6 assists)

Go back to the top of the page.
Return from LFB match to LFB Information Directory