Tarbes 54 - 65 Bourges (17-19, 12-18, 20-12, 9-12)
Céline Dumerc continued from her EuroLeague outing as she opened the score for Bourges. Her international team colleague Clémence Beikes replied quickly for Tarbes. In a lively opening session Bourges led (15-13) after eight minutes. Beikes with 6 points so far was the driving force for the home side as they matched Bourges basket for basket for the rest of the first period and only trailed by 2 points to Bourges (19-17).
Jaklin Zlatanova tied the game for Tarbes from the free-throw line at the start of the second quarter (21-21). After a second tie (23-23) Dumerc started the Bourges' revolt with a trey as her side went on a 13-2 run to open the first significant lead (36-25). Tarbes reduced their deficit with the two last baskets of the first half but still trailed by 9 points (36-29) at the interval.
Bourges increased their advantage (46-35) at the halfway point in the third period. The moment Dumerc was called for a foul on Zlatanova who attempted a 3-point shot Tarbes began to fight back. First Zlatanova went on to score the 3 free-throws. Then they scored back to back reducing their opponents' advantage to only 5 points. Bourges' change in offensive tactics by utilising their tallest inside players was rewarded by 5 points from Sonja Kireta (1m98) and 2 points by Emméline Ndongue (1m95) (left) as they went into the final period (56-42).

Bourges continued increasing their advantage (60-42) early in the fourth quarter before the scoring stopped as the game became rather scrappy. After almost four minutes of inactivity PierreVincent called for a time-out.
It was the Tarbes players that profited from the time-out as Zlatanova scored the next 4 points for her side and also dished out an assist for Beikes who was fouled while scoring a 2-pointer. Afterwards Kireta was at hand again for Bourges to put a hold to the hosts' attack (62-49). Bourges were to score once more in the game with a trey from Dumerc. Afterwards they held on to win (65-54).
Tarbes: Kristen Mann 10, Laure Savasta 3, Jaklin Zlatanova 13, Clémence Beikes 13, Liz Moeggenberg 4, Gisela Vega 10, Nelli Nevzorova 0
Bourges: Sonja Petrovic 4, Belinda Snell 12, Cathy Melain 5, Endene Miyem 6, Céline Dumerc 10, Carine Paul 0, Florence Lepron 2, Sonja Kireta 19, Emméline N'Dongue 5, Nora Bujdoso 2
Tarbes need new head coach
It has been hard for the club this season: with only three victories in the ligue féminine and the release of their first head coach Pascal Pisan in November and now the resignation of their second head coach, Patrick Maucouvert, Tarbes' future depends on quickly finding a replacement.
---
USVO not far behind in the Ligue Féminine de BasketBall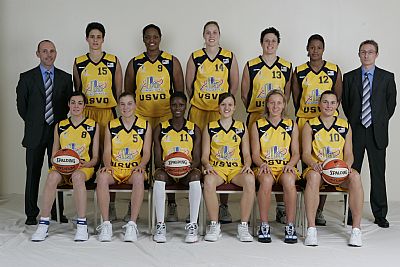 USVO 81-52 Aix (19-15, 22-11,20-13, 20-13)
No joy at the start of the match for the guests as USVO went on a 15-2 run with Emilie Gomis scoring 7 points. Aix recovered and with Magali Lacroix and K. B. Sharp leading the way inflicted a 11-4 run on the hosts. At the end of the first period Aix only trailed (19-13).
USVO increased their advantage (31-20) after a 3-pointer from Amélie Pochet at the halfway point in the second period. With only Sharp (11 points) troubling the home side, USVO went into the interval leading (41-26).
As a contest the game was over by the time Nicole Ohlde put USVO up by more than 20 points (56-35) a few minutes before the end of the third quarter. Sarah Michel joined the USVO festival in the fourth quarter by hitting a couple of 3-pointers as USVO won comfortably (81-52).
Nathalie Lesdema already been taken off the LFB roster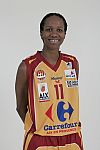 Aix-en-Provence's player Sherill Baker had had her last match as her contract was not extended while Nathalie Lesdema (left) had already been taken off the LFB roster as her contract had expired last week. In addition Anda Jekabsone was injured, hence the club was light on professional players.



USVO: Camile Aubert 4, Laurie Koehn 8,Francesca Zara 7, Sarah Michel 6, Amélie Pochet 9, Emilie Gomis 13, Krissy Bade 8 (5 assists), Sabrina Reghaissia 4, Nicole Ohlde 14 (8 rebounds), Reka Cserny 8,
Aix :K. B Sharp 14, Joyce Cousseins-Smith 0, Sherill Baker 7, Liad Suez-Karni 0, Ines Kresovic 8, Magali Lacroix 15, Yacine Sene 2, Stéphanie Beuzelin 6
---
The remaining LFB round 10 Basketball news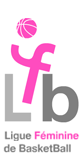 Calais 69 - 55 Reims (18-16, 23-8, 11-16, 17-15)
Calais: Andrea Csaszar 4, Allyson Hardy 9 , Lucie Bouthors 12, Vanessa Candelier 5, Mariame Dia 5, Aurélie Cibert 9 Lina Brazdeïkyté 13, .Lauren Neaves 12 (11 rebounds)

Reims: Amélie Fresnais 5, Anne-Sophie Pagnier 13, Mame marie Sy 2, Anne-Marie Parau 1, Stéphanie Blanquart 0, Marie-Frédérique Ayissi 2, Manon Sinico 1, Zuzana Klimesova 9 (11 rebounds), Mia Fisher 16, Marie-Laure Fleury-Kindoki 6



The LFB results from Wednesday evening:
Lattes-Montpellier 75-70 Challes (17-20, 17-21, 16-10, 25-19)
Montpellier: Adrianinha Moises Pinto 20, Katia Manic 0, Grace Daley 18, Gunta Basko 18 Aurélie Bonnan 8 (5 steals), Sandra Dijon 11

Challes : Tiffany Jackson 27 Laine Badiane 10, Emilie Duvivier 2, Slavka Frniakova 6, Stéphanie Dubois 3, Johanne Gomis 2, Martina Luptakova 13, Jessica Davenport 7, Marie Bacquet 0
Clermont 87-69 Mourenx (29-15, 12-12, 30-21, 16-21)
Clermont : Claire Tomaszewski 11, Jennifer Butler 3, Pauline Krawczyk 22, Claudia Das Neves 19 (8 assists), Elena Nikipolskaïa 8, Vita Kuktiene 16, Anael Lardy 4, Guiday Mendy 4.

Mourenx : Virgine Kevorkian 7, Justine Agbatan 5, Ana Lelas 12, Kaayla Chones 10, Polina Tzekova 24 Géraldine Devaux 9, Isis Arrondo 0, Béa Castets 2

The remaining two games for this round will be played in February 2008:
Arras - Villeneuve D'ascq
St Amand - Mondeville


Return from LFB Match to LFB Information Directory

LFB pictures courtesy the Ligue Féminine de BasketBall

Date:22 December 2007