Bourges were a little hesitant at the start of the game and required six minutes to get warmed up before inflicting an 11-4 spurt (22-12) to put them in control as they went into the second period leading (22-14).
Challes' strength this season has been on the boards but they were beaten in this department during this match by Bourges' Endeme Miyem and Sonja Kireta. Not even a time-out by Corinne Benintendi could stop the hosts as they put together a 14-0 run (34-16).
Bourges continued to control the rebounds but failed to kill the game off as contest with some poor finishing and a drop in intensity. This allowed the guests to reduce their deficit to 10 points (48-38).
Bourges continued to batter Challes at both ends of the court and increased their advantage to more than 20 points. With five minutes remaining and Bourges leading (65-46), the contest was over. Challes closed the gap at the end but the hosts were never in danger and started the New Year winning (70-60).
Miyem finished with a game high 21 points while Kireta compiled a double-double of 16 points and 12 rebounds. Jackson also finished with a double-double for the guests with 10 points and 10 rebounds but was beaten in the scoring stakes by Martina Luptakova and Jessica Davenport with 12 points each.
Despair for K. B. Sharp as Aix lose at home again
Pays d'Aix 56-63 Clermont-Ferrand (17-16, 16-16, 17-14, 13-10)
There was not much between the teams in the first period as they traded basket for basket with the home side holding on to the lead (17-16) at the end of the first period.
The hosts quickly established a rhythm in the second period and increased their advantage (31-22). Clermont showed no sign of panic and finished the quarter stronger with a 10-2 flourish. With 11 points from Magali Lacroix Aix went into the interval leading (33-32).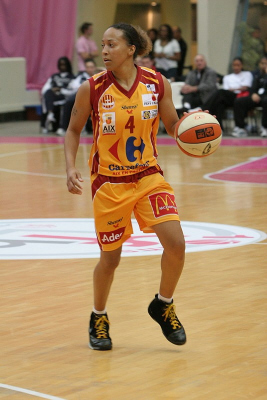 Clermont, more aggressive and disciplined after the break, quickly imposed their style and pace and went in front (37-35). Erik Lehmann, Aix' head coach, called for a time-out to put a stop to the opponents hold on the game. Yet the guests went on to score 4 more points before Aix was able to find their way back to the basket.
Ines Kresovoc finally broke Clermont's stride with her second trey of the match. This inspired her team mates and the hosts produced their best phase of the game with K. B. Sharp (left in picture) and Lacroix hitting back-to-back scores before Kresovic put Aix in front (46-45) from the foul line.


This was the last time that Aix held the lead because Vita Kuktiene restored Clermont's advantage with a trey. This was followed up with a pair of free-throws for Clermont going into the final period (50-46).
Emmanuel Coeuret turned an aggressive defensive system into an offensive outlet which allowed his side to increase the lead sufficiently to secure victory (63-56).
Sharp finished the game as top scorer but ended up on the losing side as Aix problems continue.
Aix: K. B. Sharp 19, Joyce Cousseins-Smith 2, Liad Suez-Karni 2, Ines Kresovic 10, Magali Lacroix 13, Yacine Sene 4, Anda Jekabsone DNP, Stéphanie Beuzelin 6
Clermont: Anaël Lardy 0, Claire Tomaszewski 4, Guiday Mendy 4, Jennifer Butler 10 (9 rebounds), Pauline Krawczyk 8, Claudia Das Neves 8, Vita Kuktiene 15, Noémie Lemaire 1, Elena Nikipolskaia 12 (9 rebounds)
Go back to the top of the LFB News Round 11 Page.
---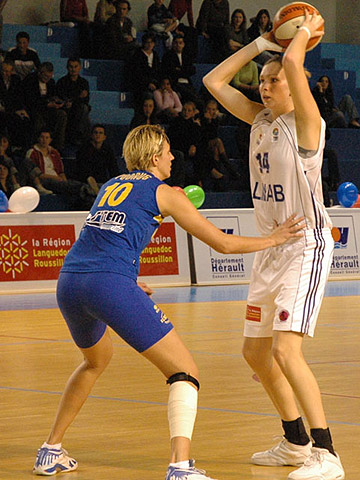 LFB News: Elodie Bertal(No. 14) return for Montpellier
Villeneuve d'Ascq 70-75 Lattes Montpellier (23-25, 14-17, 17-17, 16-16)
Sandra Dijon scored the first points of 2008 from the foul line after only 10 seconds of play. The next few minutes were one way traffic as the home side went on a 10-0 run to take an early lead (10-2).
Each side had their moments in this roller-coaster match: Montpellier fought back with Gunta Basko, Aurélie Bonnan and Sandra Dijon to give them the lead (25-23) at the end of the first period.
The second quarter continued in the same style until the game was tied at (33-33). This was the moment that Montpellier took the one big step that would eventually decide the winner as they scored 7 unanswered points (40-33). Villeneuve hit back but with Dijon and Basko on 12 points apiece Montpellier went into the interval leading (42-37) despite the 12 points from Géraldine Robert.
Montpellier was able to hold on to their advantage in the third period and went into the final quarter with (59-54).
Then Montpellier managed to increase their advantage and appeared to have the game wrapped up (72-62) after 37 minutes. But Villeneuve, once again, hit back and scored 8 unanswered points to set up a tense last minute as Montpellier saw their lead evaporate (72-70).
The final minute was played out on the free-throw line with Katarina Manic hitting 3-of-4 for Montpellier.
This was an important victory for Montpellier (75-70) who welcomed back Elodie Bertal. The other LFB news from Montpellier concerns Adriana Moises Pinto, known as Adrianinha, the medical cover had left the club.
Villeneuve d'Ascq: Bintou Diémé 5, Jucirama Dantas 10, Bénédicte Fombonne 8, Luba Drljaca 8 (5 assists), Géraldine Robert 16, Kathy Wambe 7, Fatimatou Sacko 4, Shala Crawford 10, Jasmina Ilic 2
Montpellier: Katia Manic 7, Grace Daley 10, Gunta Basko 22, Aurélie Bonnan 12 (9 rebounds), Sandra Dijon 12, Gaëlle Skrela 2, Elodie Bertal 8, Marylène Guerra DNP, Charline Servage DNP
Go back to the top of the LFB News Round 11 Page.
---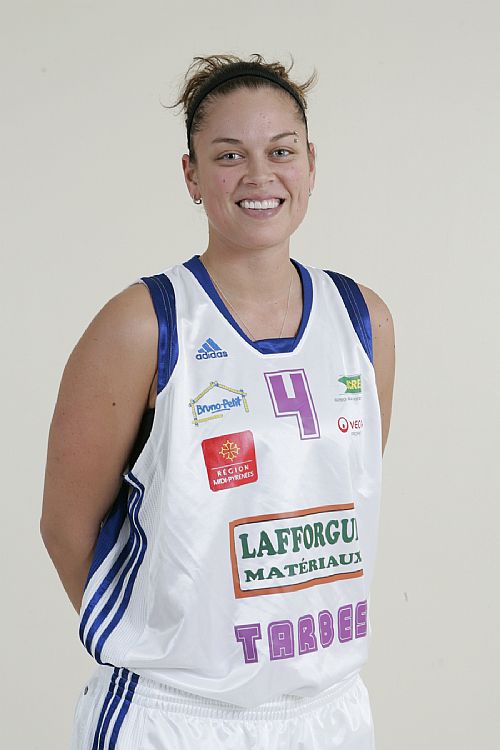 LFB News:Kristen Mann, 1-of-10 players in double digits
USO Mondeville 100-90 Tarbes (20-22, 27-19, 26-25, 27-24)
The first 3-pointer of the new year in the LFB came from Leane Williams as she gave her side the first lead of the match (3-0) after 20 seconds. Jennifer Digbeu also opened her account for Mondeville with a trey as the hosts had the better of the opening.
It was then the turn of Tarbes to show their skills of shooting from the perimeter. And when Laure Savasta connected from beyond the arc for Tarbes, her team went in front (7-6). Yet Tarbes were not able to build a lead of more than 3 points. Eventually they fell behind to the hosts after
Pauline Jannault put in another one from the land of many. Tarbes finally edged the first period (22-20) with a 3-pointer by Kristen Mann.
The two sides continued their game of cat and mouse and were level (30-30) after a one-lady show from Mann as she scored 3 times in a row.
During the second period Mondeville went on the run and after a couple of 3-pointers had the first big advantage of the game (40-33). François Gomez used a time-out to put a hold to the onslaught and the two teams played out the rest of the period on equal terms with the hosts leading (47-41) at the break. Mondeville had made 6-of-9 while Tarbes was on 5-of-9 from the 3-point territory.
There was no drop in pace after the interval with both teams level again (52-52). Still Mondeville went ahead again but Tarbes caught them up (62-62). The hosts continued their offensive push and hit Tarbes 11-0 but just as the third period came to an end Savasta from Tarbes nailed a 3-pointer.
Mondeville was ahead (73-66) at the start of the final quarter and increased their advantage to (87-72). They appeared to have the game wrapped up with just under four minutes remaining. But Liz Moeggenberg and Mann started to hit 3-pointers for Tarbes to reduce their deficit to 10 points by the end of the match.
Mondeville: Paoline Salagnac 12, Caroline Aubert 9, Ingrid Tanqueray 1, Jennifer Digbeu 18, Leane Williams 15, Meredith Alexis 23, Naura El Gargati 7, Pauline Jannault 15
Tarbes: Kristen Mann 27, Fatima Silva 6, Laure Savasta 9, Jaklin Zlatanova 2, Clémence Beikes 13, Carole Leclair, Alexia Kusion, Liz Moeggenberg 18, Isabelle Yacoubou DNP, Gisela Vega 15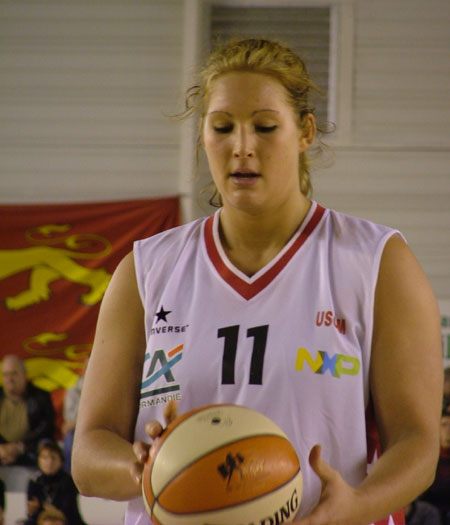 The LFB news, version WNBA
It poured 3-pointers in Mondeville with the hosts finishing 9-of-15 whereas Tarbes compiled 12-of-20:
Kristen Mann hit 5-of-7 in this discipline (finishing with 27 points) while her team mate from Tarbes, Liz Moeggenberg, had 4-of-5. Lenae Williams for Mondeville continued the American display with 3-of-5. France was represented by Jennifer Digbeu who equalled Moeggenberg.

Another WNBA player and player of the match was Meredith Alexis (above in picture)she was deadly under the boards offensively hitting 7-of-8 and also picked up 7 defensive rebounds.
(LFB news picture of Meredith Alexis courtesy of USO Mondeville)
Go back to the top of the LFB News Round 11 Page.
---
The match was played in November:
Reims 69-64 Arras (21-13, 18-21, 20-15, 10-15)
Reims: Amélie Frenais 2, Anne-Sophie Pagnier 0, Mame Marie Sy 11, Anne-Marie Parau 18, Stéphanie Blanquart DNP, Frédérique Ayissi 2, Manon Sinico 0, Zuzana Klimesova 12, Mia Fisher 13
Arras: Julie Bertin 0, Carla Thomas 13, Bianca Vescan 4, Sheana Mosch 6, Natasa Ivancevic 9, Sylvie Gruszczynski 17 , Mélanie Arnaud 0, Marielle Amant 8, Anais Déas 17
Go back to the top of the LFB News Round 11 Page.
---
LFB News pictures courtesy of the Ligue Féminine de BasketBall, Basquetbol.org and Fiba Europe.

Date: 4 January 2008