LFB news from around the clubs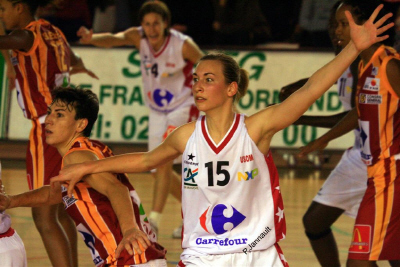 Pauline Jannault (Mondeville, No. 15) and Magalie Lacroix (Aix)
LFB news on Pays d'Aix Basket 13
12 months ago Aix-en-Provence were one of the pace setters in the Ligue Féminine de BasketBall and were contesting for a place in the top 4 in the LFB standings. Twelve months later they are deep in relegation problems and the future is not looking rosy.
It has not been an easy transition for Erik Lehman who took over the role of head coach at the beginning of the season. He is an experienced coach but new to women's basketball and has had several roster issues to deal with:
First of all the club allowed Kelly Santos to leave in November. Santos was replaced by WNBA Los Angeles Sparks player Sherill Baker.
His second issue came earlier than expected as Baker's adventure in France is already over. The American player will not be returning in the new year.
Issue number three concerns Nathalie Lesdema who was signed at the start of the season on a four-week contract as medical cover. She actually remained at the club for eight weeks but is now out of contract and left Aix before their last official match of 2007. She was the club's top scorer and rebounder.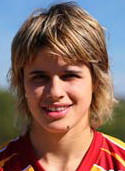 The final issue involves the health of Anda Jekabson. She had been a major acquisition for the club but has been unavailable due to injury and is expected to be fully fit when the LFB season resumes after the Christmas break.
In the meantime Aix have only managed two wins in the LFB and lie in position thirteen in the LFB standings. Ines Kresovic (in picture) is currently leading the club's scoring in the LFB with 11.7 ppg and Indiana Fevers Guard K. B. Sharp is averaging 7.5 ppg.
---
LFB news on ASPTT Arras with Amant-Mosch and Thomas leading the way
Linda Guy was originally signed in November as medical cover for Julie Barennes but never joined her new club. It has since been announced that CSKA Moscow has loaned Viktoria Plotnikova to Arras from January until the end of the season.
Barennes, who won a bronze medal with France U21 last summer, is going to be operated on January 8. She will then have four mouths of rehabilitation and is expected to be back in action next season.
Arras have had a habit of finding gems from America last season with Liz Moeggenberg (WNBA player with Chicago Sky) having joined them after the Christmas break of 2006. Moeggenberg made an immediate impact and was one of the best players during the second half of the season.
She has left the club and plays for Tarbes this season but this did not stop Arras picking up two more American players for this season: Carla Thomas (WNBA, Chicago Sky) and Sheana Mosch (former NCAA, Duke).
Mosch is leading the scoring in the LFB with 19.5 ppg while Thomas contributes 14.5 ppg and is also one of the top rebounders with 7.4 rpg.
In addition to the Americans, Arras signed Marielle Amant (in picture) from the CFBB. She is making waves with 12.8 ppg and 7.3 rpg. With her performance she will be a candidate for young player of the year as Amant only turned 18 three weeks ago.

Arras will play USVO in a friendly match on January 3 before returning to league action against Calais on January 5.
---
LFB news on Bourges Basket

Bourges ended 2007 on top of the LFB standings with domestic victories against USVO and Tarbes. They also put their EuroLeague campaign back on track with back-to-back victories that have taken them from the bottom of their group to third.
Bourges are the only club without an American on their LFB roster this season but in Belinda Snell they have a member of the Australian World Championship squad from 2007 and more recently a WNBA winner with Phoenix Mercury. Snell is currently the leading scorer for the club in all competitions and is very popular with the Bourges fans.
Sonja Kireta is the only player from Bourges in the main list for the FIBA Europe EuroLeague Women all star game.
---
LFB news on COB Calais
Apparently
Allyson Hardy
was involved in a car accident before Calais' last match. But this did not stop her from playing. In a difficult beginning of their last home match in 2007 against Reims she suited up and played for most of the time.
Perrine LeLeuch has been out of action all season and had the operation on her shoulder earlier in the month. LeLeuch will be beginning her physiotherapy in the middle of January. If all goes well she may be back by the time of the play-offs.
---
LFB news on Challes-les-Eaux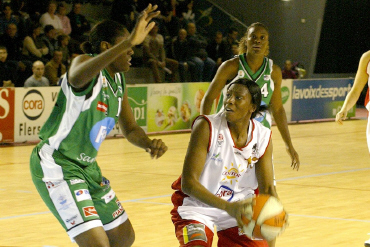 Jessica Davenport and Tiffany Jackson watching closely
LFB news on Challes-les-Eaux
Christmas could not have come sooner for Challes as the players were in need to recharging their batteries after losing their last two games. Not withstanding Challes are well placed in the league with a 6-4 record. Furthermore they are still in the EuroCup Women competition.
Corinne Benintendi is the only woman leading a team in the Ligue Féminine de BasketBall but has made her mark for women playing basketball in France. Two young ladies, fresh from NCAA basketball and a rookie season in the WNBA, Jessica Davenport and Tiffany Jackson, have both strived under her guidance.
Davenport and Jackson are having a great season. Their presence has taken some of the pressure off their captain Martina Luptakova.
Challes have a tough programme in January with road trips to Bourges, Mondeville and Mourenx. They also have a trip to Orenbourg in Russia for the Eurocup.
---
LFB news on Lattes Montpellier and the question about the future of Adriana Moises Pinto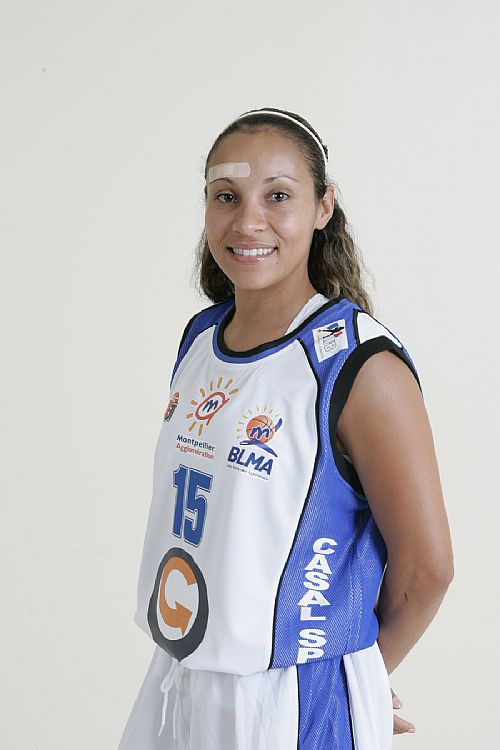 Adriana Moises Pinto
was signed at the start of the season as medical cover for three months. Officially her time is up but the question is why would Montpellier let her go after her performance in their last match of the year with 20 points, 3 steals, 4 assists as well as drawing 9 fouls.
The club played with only six players in their last match and Olga Podkovalnikova's days in Montpellier are over as she will continue her career in Spain.
---
LFB news on USO Mondeville
In November
Meredith Alex
was playing in Poland and then an opportunity arose to replace
Naré Diaware
for eight weeks due to a stress fracture. Alex came to play one match and the club decided that she should stay until the end of the season while releasing Diaware.
Fiba Europe released on their website the names of players that people can vote for to play in the EuroLeague Women all star game between Europe and the Rest of the World.
Mondeville have four players on the main list. For the Rest of the World it is Alex (after only two matches but under the wrong category: guard) and Lenae Williams. Caroline Aubert and and Naura El Gargati are on the selection list for Europe.
---
LFB news on Saint Amand

Fabrice Courcier completed his recruitment very early. Once he got his players together at the beginning of the season, he went to work on turning them into a collective unit. Already the offensive work is shared equally with four players averaging double digits with Ines Ajanovic 11.3 ppg, Tamara Moore 11.9 ppg, Olena Ogorodnikova 12.4 ppg and Tiffany Stansbury 12 ppg.
The club have developed a system that has enabled them to integrate their youth players into the LFB roster without disrupting their programme. Like all the clubs in the LFB Saint Amand are required to field a second team in one of the lower divisions in the national league.
---
LFB news on Tarbes Gespe Bigorre Elite
Tarbes finished the year without a coach because Patrick Maucouvert handed in his resignation immediately after their last home game. The team has also been still without
Isabelle Yacoubou
but she is expected back in January.
Tarbes' league form is nothing to write home about. Yet with the two victories attained during the reign of Patric Maucouvert they moved out of the relegation zone.
They are also still involved in the FIBA EuroCup Women competition and will be in Bosnia in January to face BC Zeljeznicar.
---
LFB news on Valenciennes (USVO)
USVO will be back in action on January 3 for a friendly match with Arras. Although this is a friendly match, there will be an entry fee because all match receipts will be given to a charity called TC Humanitaire.
USVO players Nicole Ohlde and Francesca Zara are also on the FIBA Europe EuroLeague Women all star voting list.
---
LFB news on Entente Sportive Basket Villeneuve D'Ascq
Kathy Wambe is the current assist queen in the LFB with 10.3 apg and is also on the FIBA Europe all star voting list.
---
Return from LFB news to LFB Information Directory


ppg = Points Per Game
apg = Assists Per Game
rpg = Rebounds per Game

Pictures courtesy of the Ligue Féminine de BasketBall and Basquetbol.org
Date:28 December 2007