LFB match: Pays d'Aix 13 - Mourenx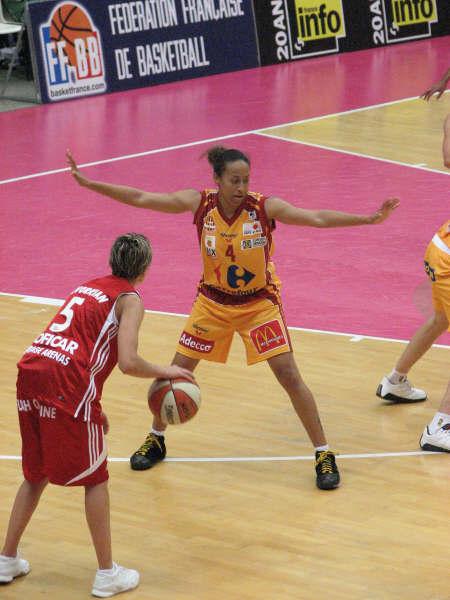 LFB Match - K.B Sharp (Aix-en-Provence)
The first LFB (ligue féminine de BasketBall) match which was held on the first day of the Open was delayed for 15 minutes and so it was no surprise when the first period with Mourenx against Aix-en-Provence was played at a leisurely pace with very little offensive action in the first five minutes. Mourenx who was more adventurous took an early lead (6:2). Justine Agbatan scored 6 straight points for Mourenx before Aix-en-Provence started to come into the match. The introduction of Nathalie Lesdema gave Aix the offensive edge but they still trailed (18-13) at the end of the first quarter.
The second period was more lively by both teams with Aix-en-Provence making up the deficit to lead (28-25) mid-way through the second period. The game became rather stale with Aix-en-Provence extending their advantage at the interval (36-30).
5 points by Yacine Sene (3+2) opened the first big lead of the game for her side (53-41) and finally livened the game up. The quality of the game improved in the last couple of minutes as Mourenx was forced to chase the game (57-48).
The fans of Mourenx started to make a lot of noise and their side came storming back to make it a 3-point game (60-57) with just under five minutes left in the match. Lesdema restored the advantage for Aix but back to back scores from Ane Lelas and then Kaayla Chones brought the game down to a one-point game (61-61).
Liad Suez-Karni hit a difficult turn-around jumper as the game was to enter money time (64-61) which resulted in a Mourenx time-out. The reaction from Mourenx afterwards was a trey from Beatrice Castets to tie the game (64-64). The last 1:40 minutes remained scoreless but with plenty of incidents with Aix-en-Provence getting the better of all the calls but unable to finish as the game went into overtime.
In the 5th quarter of this LFB match K. B. Sharp was on the wrong end of a Chones charge but only spit a pair from the free throw line. Chones was then in action at the offensive end and put her side in front for the first time since the first period (65-66). Stéphanie Beuzalin's 3-point play followed by a jump-shot from Lacroix put Aix back in front. Ana Lelas was in no mood to let this go as she once again from the land of many gave her side the lead. She had to leave the game with 12 seconds left after picking up her final foul. She did not have to worry: Stéphanie Beuzalin hit the winner for Mourenx from the land of many (74-72).

Return from LFB Match to Open LFB Day 1