LFB match 3: Tarbes - St Amand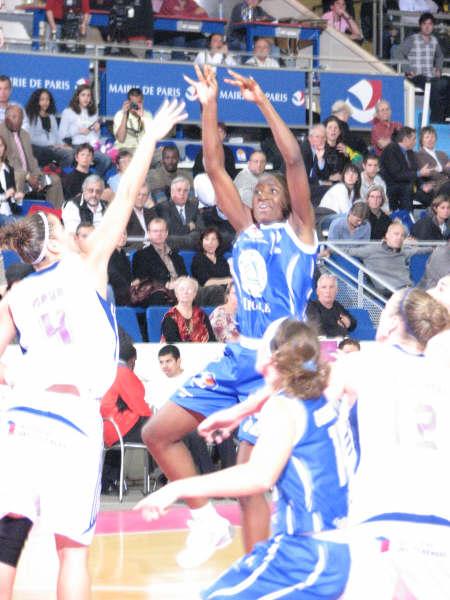 LFB match 3
Tarbes will not be able to play with more than 2 non EC nationals per match and as a result Icis Tillis was not playing.
Tiffany Stansbury marked her entry into the LFB with the first points of the game. A rather physical start from both sides saw little scoring in the opening phase from open play. The game was tied (8:8) mid-way through the first period. Tarbes, looking more comfortable, opened the first lead of this LFB match (13-9) of the back of a 3 from Liz Moeggenberg. St Amand profited from defensive lapses by their opponents to score five straight points to regain the lead briefly. Kristen Mann put Tarbes back in front as they finished the period with the last 5 points to lead (18-14).
Mann was on hand to complete an 8:0 run with another trey, her second one of the evening. The next few minutes were interesting as both sides played to their strengths cancelling each other out, exchanging basket for basket with Tarbes maintaining their lead (26-22). St Amand played inside and eventually tied the game (26-26). Tarbes reverted back to their perimeter game and Mann hit another trey but the lead was short-lived as Elena Ogorodnikova connected with one from the land of many but Tarbes had the last score to go into the interval leading (31-29).
An interesting change in style by St Amand after the break saw them alternating between the inside and outside game while Tarbes continued in vain to score from the perimeter. Despite their difficulty they still remained in control (37-33). Patience sometimes pays off and this time for Tarbes it did as they made an offensive burst at the latter part of the 3rd period to increase their lead to 13 points before being whittled down to 9 points at the end of the period (48-39).
If you leave Savasta space from beyond the arc she will oblige and St Amand gave her the opportunity twice for her to hit two treys as part of a 10-3 run to extend her team's advantage (58-42). After this initial burst Tarbes made hard work of the rest of the game allowing their opponents to dictate their style and pace as they tried to reduce the deficit (60-49) but a well organised Tarbes' side did not lose their grip on the game and went on to win by a comfortable margin (66-53) with 21 points coming from their captain Laure Savasta.
Clémence Beikes and Liz Moeggenberg had a few comments to make about the game and how tough things were for them this week and that to start with a win was good for the group. Liz also added some words about playing in France and the importance of the LFB Open which you can listen to in English while Clémence speaks in French about the victory and the difficulty this week with the refusal of teams to play them and winning this match with a reduced roster.
---
The audio for LFB match 3: Liz Moeggenberg speaks briefly of her excitement about playing for Tarbes and her love for basketball:
Clémence Beikes gives her verdict on the match and the events leading up to the game in French:
(Note: If you are using Internet Explorer click twice on the triangle)
Return from LFB Match 3 to LFB Day 1