Reims win important LFB match against Villeneuve
New: For this LFB match a short French summary of the game has been included and can be found at the bottom of this page.

Reportage sur le match aussi en français, voir en bas de la page.
Vous pouvez aussi écouter quelques audio en français qui se situent avant ce reportage.
The story of LFB match 54
Reims 75-72 Villeneuve (20-23, 20-12, 21-15, 14-21)

Shala Crawford got the first points of the game with a tip-in just under the bucket and Lujbica Draljaca hit a nice mid-distance jumper to get the hosts on their way. Then Anne-Marie Parau (left in picture) got Reims off the mark from the free-throw line which was the start of a 6-point sequence. With a little over two minutes gone in the game the contest of the two point-guards Parau - Kathy Wambe was already on.
Villeneuve had the early advantage (9-8) and made good use of their height and stretched their lead to (15-8) despite the efforts of Marie-Laure Fleury-Kindoky. In the meantime Philip Sauret took out Mia Fisher as well as Zuzana Klimesova after she contested an official call. Reims remained in contact mainly due to Parau, who, if not scoring provided assists as her side chased down the score. Bintou Diémé, taking over from Wambe, controlled the pace for her team and provided a nice pass for Fatimatou Sacko to finish with the last points of the first period (23-20).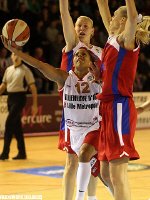 Anne-Sophie Pagnier opened her account with a trey to start the second quarter initiating Reims to become more aggressive in attack with Klimesova doing most of the damage after the good work by Amélie Frenais as their team went into the lead (31-27). Abdou N'Diaye called for a time-out and afterwards also brought Wambe (left in picture) back into the match. Reims' 10-0 run was brought to a stop by a 24-second-buzzer beater by Wambe (35-29) after 28 minutes of play. Villeneuve switched to zone and immediately hit back as Reims turned the ball over time and time again (36-33) which required Philip Sauret to call for another time-out. Shala Crawford and Mame Marie Sy were having their own private battle in the middle of the court as neither player was willing to concede any space. The game was getting more physical with players contesting calls so it was now the turn of Géraldine Robert to be taken off by her coach after a clash with Parau. Parau hit the resulting free-throws after the incident but the last score of the first half went to Jucirama Dantas of Villeneuve. Yet Reims went into the interval leading (40-35).
---
Second half of LFB match starts with a sequence of 3-pointers

Villeneuve returned after the break with the tallest line-up possible and rearing to go but they were caught napping as Reims played a different variant of their transition game and the result was a baseline 3-pointer from Pagnier. N'Diaye was not pleased and used a time-out immediately to put his house in order. Crawford obviously took in what was said and used her strength in the paint and scored on the very next play. Unfortunately her next action was to pick up a third personal foul which left her coach no choice but to return her to the bench. Meanwhile Reims did not back away as the intensity increased and the home supporters were rewarded for their patience with two moments of magic from Klimesova after a trey by Manon Sinico with back-to-back treys from exactly the same position again from the top of the arc (53-41). Shortly after she joined Crawford on the bench after picking up her third foul followed quickly by Mia Fisher's own third foul.
In between the beauty and excellent moments of skill by both teams the LFB match became rough and at times at the limit of sportsmanship resulting in the officials having a hard time. On the technical side Villeneuve continued to double-mark Parau keeping her scoreless and as the game stagnated Sauret decided by bringing Fisher back to play point while leaving Parau on the wings. The result was back-to-back baskets from Fisher an Frédérique Ayissi completing the 6-0 run (59-45) to give the home side the largest lead of the match. But the guests reduced the deficit with points from Bénédicte Fombonne and Crawford but still trailed by 11 points (61-50) at the end of the third period.
The start of the final quarter in this LFB match was fast and furious with Reims still in front after the early exchange (66-53). The next phase was Wambe at her best as she cajoled up some interesting plays by dishing out assists or scoring as her side hit 10 unanswered points (66-63). The next action was not the match-winning point but most likely the game's turning moment: Fisher had the ball with nowhere to go and nobody to pass to with the clock running down. So she drove to the basket and took off in similar fashion to a recent Tony Parker score in the NBA, manoeuvred the ball in the air and scored. Individual actions from Fleury-Kindoki and Klimesova for Reims negated the scores from Drljaca and Sacko for the guests (72-67).
The battle Wambe - Parau was now at its climax with 53 seconds left in the game. Wambe took the ball from her own half and accelerated to the basket but the lay-up was too hard and the rebound fell nicely back to her and she managed to get the ball in and drew a foul to make it a 3-point play (72-70). Immediately Villeneuve applied a full court press but Reims in bounded the ball and with Diémé fouling Parau who then converted both free-throws. Reims, aggressive in defence, forced a Villeneuve turn-over but then lost the ball as Wambe eventually stole the ball from Parau and went on to score.
With 17 seconds remaining Parau once again was under pressure but this time she won the dual and Wambe was called for the foul. Parau split the pair, the guests had 4.6 seconds left to try and take the game into overtime but failed and allowed Reims Saint Jacques Sport to win this LFB match.
LFB match roster and individual points

Reims: Amélie Frenais 0, Anne-Sophie Pagnier 9, Mame Marie Sy 6, Anne-Marie Parau 13, Frédérique Ayissi 8, Manon Sinico 4, Zuzana Klimesova 14, Mia Fisher 6, Marie-Laure Fleury-Kindoki 15
Villeneuve: Bintou Diémé 2, Bénédicte Fombonne 3, Jucirama Dantas 12, Ljubicaa Drljaca 12, Géraldine Robert 7, Kathy Wambe 12, Fatimatou Sacko 10, Shala Crawford 12, Jasmina Ilic 2

---
Comments after LFB match:
Philippe Sauret
, the Reims head coach, was very pleased with this victory and importantly happy to end the loosing streak. He summarised the performance of his players as a total team investment with everybody at one moment or other fulfilling their roles and doing as they were told.
(Note: If you are using Internet Explorer click twice on the triangle)

Marie-Laure Fleury-Kindoky said that it was great that they won at home especially against a team like Villeneuve d'Ascq. Now they have to keep this form for the next game but in the meantime "we will enjoy a little our victory" and then they will prepare for the oncoming match. You can listen to her LFB match comment in French:
(Note: If you are using Internet Explorer click twice on the triangle)

Anne-Sophie Pagnier added that they started the match well and did alright in the all sectors to lead comfortably at the interval. They were told by their coach to work harder in defence and take more responsibility in attack and as you witnessed it was hard at the end but they won. This victory is good for the club, their position in the LFB standings and they hope to continue this way for their coming home game against Clermont. There follows another comment in French:
(Note: If you are using Internet Explorer click twice on the triangle)

Zuzana Klimesova was excited after their tight win and was proud to end the three-game loosing streak in such a manner. She was also satisfied that the team held out in such a physical game and achieved their objective. Here are her comments in English:
(Note: If you are using Internet Explorer click twice on the triangle)

On the other hand the Villeneuve d'Ascq coach, Abdou N'Diaye, had the following to say about his team's defeat. They did not defend well and so conceded 40 points in the first half and left themselves open wide for too many 3-points. Overall Reims was more determined and much more aggressive. His comments on this LFB match are:
(Note: If you are using Internet Explorer click twice on the triangle)

Géraldine Robert mentioned that this season has generally been an up and down but so far they are getting through okay although they have been losing a lot of EuroLeague games. Yet they did not expect to lose against Reims but she would like to congratulate the Reims girls for their good performance as they deserved to win. She spoke in French about this LFB match as well as her recent injury:
(Note: If you are using Internet Explorer click twice on the triangle)

---
Short summary of LFB match in French/version française:
Villeneuve surpris par l'audace de Reims
Le collectif rémois a battu Villeneuve d'Ascq à domicile (75-72), c'était le 54ème LFB match de cette saison. Pourtant les choses ont mal commencé car les adversaires, plus grandes en tailles et plus agressives, ont dominé dans la raquette. D'entrée de jeu, les filles de Philippe Sauret sont menées au score (15-8).
Petit à petit, les Jacquistes ont regagné la confiance dans la raquette. Notamment grâce aux shoots infaillibles de Marie-Laure Fleury-Kindoky et l'agressivité de Anne-Marie Parau, l'équipe est revenue au score (20-23) à la fin du premier quart temps.
Dès le début du deuxième quart temps, les Jacquistes, lancées par un 3 points par Anne-Sophie Pagnier et par l'agressivité de Amélie Frenais, ont enfoncé le clous avec un 10-0 (35-27). Mais les filles de Villeneuve ne se sont pas laissées abattre et sont revenues grâce à Jucimara Dantas, à l'intérieur.
Après la mi-temps, les Jacquistes, toujours à l'aise à 3 points, en ont marqué trois d'affilé (53-41) jusqu'à la 25ème minute. Mais les joueuses de N'Diaye ont pu profité des nombreuses fautes de Reims pour relancer leur jeu.
Tout de même, les joueuses de Sauret ont commencé leur dernier quart temps avec 11 points d'avance. Elles ont réussi à garder leur avantage jusqu'à la 33ème minute (66-53). Mais les Jacquistes ont souffert de la zone très agressive de Villeneuve et peu à peu ont perdu leur moyen. De plus, une Kathy Wambe déterminée, a ramené son équipe au score (63-66).
Malgré les points de Ljubica Draljaca et Fatimatou Sacko, Fisher, Klimesova et Fleury-Kindoki ont marqué tour à tour pour parvenir garder l'écart (72-67). La fin du match était accentuée par le duel entre Wambe et Parau. La meneuse de Reims en est sortie victorieuse et son sang-froid au lancer franc a permis à son équipe de gagner le match.
Return from LFB Match to LFB Information Directory