Mixed results in Euroleague Women for LFB clubs
EuroLeague Women victory after four defeats for Villeneuve d'Ascq
Villeneuve d'Ascq 67-50 TTT Riga (20-9, 17-14, 11-17, 19-10)
Villeneuve players Jacimara Dantas and Géraldine Robert (left in picture) scored 4 points each as the home side opened (8-4). They then accelerated the pace and mid way through the first period they had already put a distance of 10 points between them and their opponents (16-4). Due to Villeneuve's shooting 10-of-14 during the first period they led (20-9).
Villeneuve continued to be aggressive and continued to apply pressure all through the second quarter and even when things did not go right, they were on hand to pick up second-chance opportunities. After Robert missed her two free-throws, she still had the awareness to go for the rebound and score to give her side a 17-point advantage at the break (37-21).
Kathy Wambe, the passer, went to work quickly as she dished out 2 assists and split a pair of free-throws as Villeneuve opened the third quarter (5-2). The guests then came back with 6 straight points as Ieva Tare, Iciss Tillis and Micaela Jacintho all scored (42-29). Tillis and Jacintho were starting to make things difficult for their hosts and by the end of the third quarter Villeneuve's lead was only 8 points (48-40).
10 points in the final period by a hyper-motivated Robert was enough to give Villeneuve a well deserved victory (67-50). Tillis for Riga made sure that her side, despite losing, have had the overall advantage over the two ties. In case of identical records at the end of the group stage Riga will be placed higher. Villeneuve lost by 18 points in the first leg and are now 2-5 and move off the bottom of group A.
Robert finished as top scorer with 20 points and was also the best rebounder with 9 boards. Ljubica Drljaca scored 13 points while Fatimatou Sacko had 10 points and Wambe dished out 8 assists. For Riga Tillis had 19 points and was joined in double digits by Jacintho with 11.
The other results in EuroLeague Women group A were:
CSKA Moscow 89-67 Phard Napoli
Fenerbahce 78-61 MKB Euroleasing
---
EuroLeague Women joy for Céline "Caps" Dumerc
Bourges 71-60 ZvvZ Prague (18-14, 17-19, 18-13, 18-14)
Belinda Snell got Bourges off to a good start with the first points of the match but Prague were quick to reply. Céline Dumerc (in picture) was very active from the start and scored the next 5 points for Bourges and Emméline Ndongue completed the 7-0 run as Bourges quickly put their stamp on the game (9-2). Prague weathered the early storm and with Lindsay Whalen scoring 7 points they came back to within 3 point before conceding a couple of points from the free-throw line by Endene Miyem from Bourges to remain in front at the end of the first period (18-14).
Prague began to play as if they were the home side and went in front off a basket from Michala Hartigova (21-20). The lead was to change on several occasions during the remaining period with Snell scoring the very last point of the second quarter to give Bourges the advantage (35-33).
Bourges' attempt right from the off in the third quarter got away from their guests and appeared to be on the right track after Cathy Melain finished off a typical Bourges transition play (43-38). Prague were in no mood to abdicate and quickly bounced back with scores from Janell Burse and Sandra Le Dréan (43-42).
Pierre Vincent immediately called for a time-out and whatever he said obviously worked as his side scored 10 unanswered points to take hold of the game. However they undid all their good work by allowing Burse to score 4 points for the guests to close the quarter and reduce Bourges' advantage (53-46) going into the final period.
Not able to contain Dumerc
Bourges managed to control the pace of the match and increased their lead (63-50) off a lay-up from
Sonja Petrovic
that prompted a timeout from Prague. Afterwards Prague were rewarded with some quick points as they went on the offensive but they were not able to contain Dumerc, who in turn made sure that her side did not lose their advantage to win (71-60).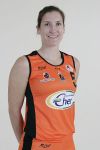 Dumerc top scored with 19 points and was joined in double digits by Snell (left in picture) with 17 points while for Prague Burse finished with a double-double 16 points and 13 rebounds. Whalen also had 16 points.
Elodie Godin whose professional career started in Bourges only played for 11 minutes and scored 4 points and took 2 rebounds.

The other result in EuroLeague Women group B was:
Halcon Avenida 82-72 Jolly JBS Sibenik
---
Ros Casares down Mondeville to go 7-0 in EuroLeague Women
Ros Casares 83-78 Mondeville (23-25, 23-22, 18-15, 19-16)
Ros Casares were never allowed to settle into their stride and back-to-back 3-pointers by Lenae Williams for Mondeville put her team in the lead (10-7). Mondeville put in 6 more points from the land of many as they extended their advantage (18-13). The Ros Casares' head coach called for a time-out and gave his players a good talking. Whatever was said did not help much as the guests opened up a 10-point lead after Caroline Aubert scored another 3-pointer (23-13).
EuroLeague Women joy for Delisha Milton
Delisha Milton started the revival for the hosts as they finished the period on a 10-2 run with Laia Palau producing some magic to reduce Mondeville's lead (25-23).
There were less 3-pointers in the second quarter for Mondeville while a 3-pointer by Katie Douglas put Ros Casares briefly in front (31-29). However Pauline Jannault put Mondeville back in front with a trey and Aubert was on hand to add a couple more points. Holding the advantage for long was not possible in this game and Evanthia Maltsi and Douglas hit back as the hosts edged in front. The lead then changed several times with Mondeville going into the break leading by a single point (47-46).
The ball, as if pulled by a magnet, reached Palau
The two sides continued their offensive festival with several lead changes with Ros Casares taking the advantage going into the final period (64-62).

This match had everything and continued the offensive show during the final period. Paoline Salagnac for Mondeville tied the game for the last time (68-68) to set up a tense last five minutes.

Palau from Ros Casares gave the lead for good for her side from the charity stripes and appeared to have broken the resistance with a trey from Elena Tornikidou (73-68) but Jannault prolonged the suspense with two more 3-pointers as Mondeville refused to go down and remain on the heals of the hosts (77-76).

With the game now in money-time Tomikidou became a passer as she opened the door for Marina Ferragut to score (79-76). With Mondeville's ability to hit 3-pointers, the home side was not safe and it required a special moment for Ros Casares to remain unbeaten: Milton fired a shot from down-town that failed to hit the target but somehow the ball, as if pulled by a magnet, reached Palau who put the ball in (81-76). On resumption after Mondeville's time-out the game was played out from the free-throw line with the hosts holding on (83-78).

Milton finished with a double-double 20 points and 15 rebounds to lead Ros Casares. Other players in double digits were Palau with 19 points, Douglas 16 points (7 assists) and Tounikidou with 10 points.

For Mondeville Aubert had 18 points and 12 assists and was joined on 18 points by Williams while Salagnac and Meredith Alexis scored 15 and 12 points respectively.

The other result in EuroLeague Women group D was:

Dynamo Moscow 59-49 Germano Zama Faenza
---
EuroLeague Women disaster for USVO
Gambrinus 86-62 USVO (31-12, 20-17, 19-18, 16-15)
At the beginning of the match it was a case of Gambrinus scoring two times for every USVO score. The home side was leading (18-10) after nearly six minutes of play then accelerated and hit their opponents 10-0 in just over three minutes and finished the period with a 3-point buzzer shot by Zuzana Zirkova to lead comfortably (31-12).
Gambrinus continued the onslaught in the second quarter and increased their advantage to (43-16). USVO managed to put a 6-0 run together as they attempted to bring some respectability to the score line but ended going into the break with a deficit of more than 20 points (51-29).
USVO had no option but to attack in the third period. With only 3 points from Nicole Ohlde in the first two minutes after the break a possible comeback was gone. Hamchetou Maiga from Gumbrinus made sure with back-to-back basket to get her side going. USVO battled but the hosts maintained their advantage going into the final period (70-47).
The fourth quarter was just a formality and only Laurie Koehn troubled the hosts with three consecutive 3-pointers (77-56). This was as close as USVO was to get as Gambrinus went on to win (86-62).
EuroLeague Women woes for Emilie Gomis and USVO
The story of the match in numbers:
The hosts hit an amazing 73% from within the arc during the first period 19-of-26 while USVO managed only 8-of-20 and more significantly USVO were out rebounded 18:8. While these numbers dropped in the second half for the hosts they still finished with a field goal percentage of 53% and took 39 rebounds while USVO's field goal percentage was 40% and their rebound total only 22.
Five players in double digits for Gambrinus confirmed their collectivity: . Petra Kulichova 15, Hana Machova 14, Tamika Whitmore 13, Zirkova and Maiga with 10 apiece. Once again Ohlde for USVO was the top scorer with 17 points followed by Laurie Koehn who finished with 12 points by hitting 4-of-5 from 3-point territory.
---

Picture credits on this EuroLeague Women page:
1. Céline Dumerc: courtesy of Bourges Basket
2. Belinda Snell: courtesy of the Ligue Féminine de BasketBall (LFB)
3. The remaining EuroLeague Women pictures are courtesy of FIBA Europe.


Date:19 December 2007
Return from EuroLeague Women to LFB Information Directory