Improvements in EuroLeague for LFB clubs
For the first time in the FIBA Europe EuroLeague Women competition three French clubs won in a single round this season.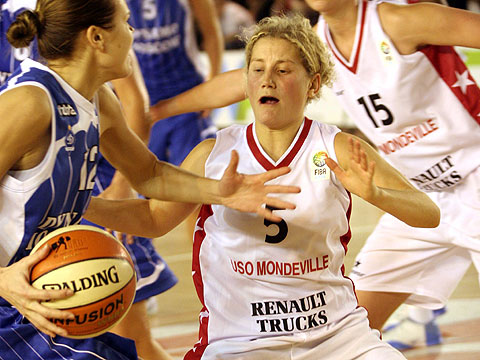 Caroline Aubert led Mondeville to second victory in EuroLeague
Mondeville 66-64 TEO Vilnius (10-21, 22-15, 24-18, 10-10)
Caroline Aubert kept Mondeville in touch with their guests during the first five minutes of the match as she scored 5-of-8 team points as they trailed to TEO Vilnius (9-8). However the guests kept in control and with Yelena Leuchanka leading by example finished the first period 6-0 to remain in front (21-10).
Mondeville's latest signing
Meredith Alexis
scored her first points for the club as her team mates went all out to cut the deficit early on in the second quarter. However
Nykesha Sales
(No. 11 in picture) for TEO Vilnius with 16 points in the first half kept her side's advantage with a trey (29-16). The guests were not able to keep the hosts at bay for long and with Aubert scoring 8 points and Pauline Jannault finding her range from the 3-point territory Mondeville trailed by only 4 points at the interval (36-32).
TEO Vilnius failed to increase their advantage as they dropped many points at the free-throw line which allowed the hosts to eventually go in front (45-44) midway through the third period. The lead was to change various times as they played cat and mouse for the rest of the quarter with Mondeville finally gaining the upper hand (56-54) due to their consistency at the free-throw line.
The start of the final period was fast and furious and remained that way until the game was tied (61-61) by the guests with just under seven minutes left to play. Scoring became difficult after this early flow and both sides reverted to shooting from outside the perimeter.
After failures by Jannault and Lenae Williams from Mondeville to connect from the land of many their team mate Aubert was on hand to drain a 3-pointer. Within two minutes the sides were level again as TEO Vilnius' Rima Valentiene nailed a 3-pointer (64-64).
The game did not get any better offensively and the remaining scores came from the free-throw line as Naura El Gargati and Jannault split pairs (66-64) to set up a tense last minute. Turnovers and missed attempts were the story of the closing seconds and when Sandra Valuzyte's last attempt to tie the game failed Mondeville kept the ball long enough to secure victory.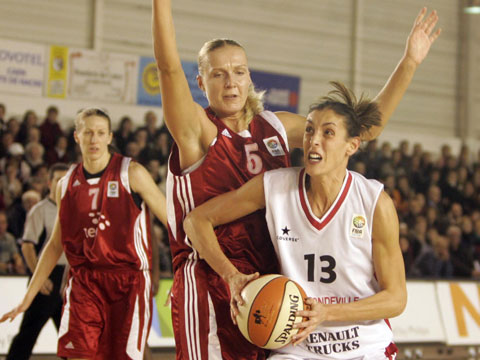 Caroline Aubert finished with 21 points including 4-of-9 from beyond the arc to lead all scoring for the winners. She was joined in double digits by Paoline Salagnac and Jannault with 12 and 11 points apiece. Nykesha Sales scored a game high 25 points for the guests while Yelena Leuchanka (No 5. red in picture) had a double-double of 11 points and 13 rebounds.

With this victory Mondeville improved to 2-5 in EuroLeague group D and moved off the bottom.
---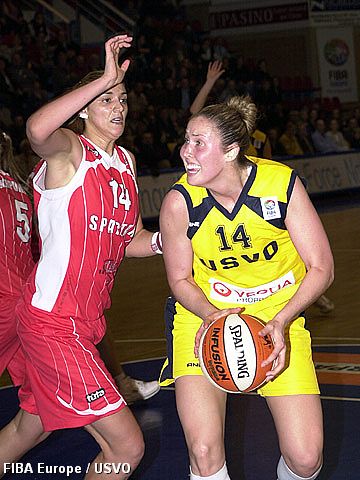 Nicole Ohlde downs former club to improve USVO's EuroLeague record
USVO 79-55 Dexia Namur(24-9, 19-14, 18-11, 18-21)
First play of the game and Francesca Zara hit a 3-pointer for USVO off a pass from Nicole Ohlde (left in picture). The following two minutes were scoreless as both sides jostled for territorial advantage. The "Zara and Ohlde" combination worked again with Ohlde doing the scoring. She was then on hand to add a couple more points to give her team an early lead (7-0). Dexia Namur finally got off the mark through Krystyna Szymanska-Lara. This gave the guests more confidence and they came to within 2 points of USVO (9-7). But this was the closest they ever got in this match.
Sabrina Reghaissia started an 11-point run for the hosts with a 3-pointer and was on hand just under three minutes to complete the run with a mid-distance jump shot as USVO went on to dominate the rest of the period (24-9).
Emilie Gomis scored her first points of the game from the free-throw line to increase USVO's advantage. The opponents then switched to a zone to keep USVO at bay for a short period as they hit back-to-back baskets by Marjorie Carpréaux and 16-year-old Olesya Malashenko (28-17).
As so often this season when the going gets tough for USVO Krissy Bade found something from her bag of tricks to get her side going again. When Ohlde scored her 10th point of the match moments later it appeared once again that USVO was back in charge (32-19).
Carpréaux was not ready to concede the game so early and caused USVO all kinds of problems. USVO required to accelerate their scoring and Gomis, not having a productive evening offensively, was replaced by Laurie Koehn. Koehn provided the spark the coach expected as her team went on a 10-0 run with her scoring 7 points. This gave USVO a 20-point lead at the break (43-23).
Bade and Ohlde shared the early scoring for USVO during the third quarter while Cathrine Kraayeveld hit most of the points for Dexia Namur with 15. Kraayeveld was the main reason that USVO's 20-point cushion reduced slightly going into the final period (61-44).
With USVO losing the first leg by 18 points Hervé Coudray was a little agitated at the start of the fourth quarter and picked up a technical foul within the first 30 seconds. Kraayeveld continued her one-lady show and scored the first 4 points to reduce the hosts' advantage (61-48). Zara (left in picture) appears to strive in such situations and once Bade got the team going again Zara was on hand to score 5 points as USVO went on a 10-0 run (71-48) to make the game safe.
Kraayeveld was unable to score again and USVO went on to record their third victory and improve their position in EuroLeague, group C.
Ohlde finished with 20 points and 11 rebounds for USVO while Zara and Koehn contributed 16 and 12 points each. Kraayeveld finished with a game high of 23 points for Dexia Namur and was joined in double digits by Krystyna Szymanska-Lara with 12 points.
---
EuroLeague results for Bourges Basket and Villeneuve d'Ascq
Bourges beat Jolly JBS Sibenik in Croatia(74-64). A good third quarter 25-11 put Bourges on the path for victory. Sonja Kireta led the scoring for Bourges with 20 points. Endene Miyem scored 16 points while Céline Dumerc chipped in 12 points and dished out 8 assists. This was only the second victory for Bourges in EuroLeague this season but it lifted them to third place in group B.
Villeneuve d'Ascq, travelling to Hungary, had plenty of chances to beat MKB Euroleasing but once again fell short in money-time (65-61) and with a 1-5 record remained at the bottom of group A.
Return from EuroLeague to LFB Information Directory
(EuroLeague photographs on this page are courtesy of FIBA Europe)