Euroleague Women Basketball difficulties for LFB clubs

Bourges lost for the fourth consecutive EuroLeague tie and are now bottom of Group B. This is not a scenario that anybody had envisaged at the beginning to this season's campaign.
What went wrong for Bourges against Wisla Can-Pack?

It is becoming more obvious that to win ties in the EuroLeague, teams must be concentrated for the full forty minutes and even more when playing away from home. Any drop in intensity is immediately exploited by the opponents.

This drop in concentration happened to Bourges for the last three minutes in the first quarter. Bourges had just pegged back the score with a 3-pointer by Cathy Melain (14-11) and then they went to sleep and by the end of the first period they were trailing (23-13).
Bourges spent the rest of the evening trying to reduce the deficit and after a wonderful third-quarter performance they came back to within a single point of the hosts (48-47). They eventually drew level (61-61) but were unable to add more points to their score during the last minutes in the last period and finally conceded the game 25 seconds from the end of regulation time after Anne De Forges delivered a knock-out blow with a 3-pointer.
The story of the match
Wisla Can-Pack 66-61 Bourges 61 ( 23-13, 14-12, 11-22, 18-14)
In recent weeks Bourges had struggled with their shooting at the beginning of matches and only managed 8-of-25 from the field during the first period and were eventually punished for their missing chances as Jelena Skerovic and Marta Fernandez were not so generous as they kept the scoreboard ticking along for the hosts to open up a lead (23-13) at the end of this quarter.
Bourges had a big advantage on the boards but allowed too many second-chance opportunities to go astray. The hosts, more aggressive and well disciplined despite losing the battle on the boards, continued to push Bourges into turning over the ball and with some excellent perimeter shooting increased their lead slightly (37-25) at the break.
The metamorphosis of Bourges after the break was remarkable: everything started to work well and they put an 8-0 together to reduce their deficit (39-31). Endene Miyem then went on the offensive attack and Bourges only trailed by 4 points (42-38) as they continued to dominate the proceedings and by the time Belinda Snell scored her only points of the match the gap was just a single point (48-47). The remaining 90 seconds of the third quarter remained scoreless as the hosts weathered the storm.

Bourges levelled the game (48-48) early in the final period with Sonja Kireta splitting a pair of free throws. Bourges missed the chance to go in front and were quickly punished by their Polish hosts who went all out to win this Euroleague match with Candice Dupree, De Forge and Skerovic all scoring important points to put them in control (61-52). Sonja Petrovic (above in picture) and Miyem belong to the generation of youth players that do not believe anything is over until it is over and hit the next 6 points for Bourges and when Dumerc levelled the game with a trey, Pierre Vincent must have hoped that his luck in this competition was to change. Alas it was not to be and Bourges are now 1-4 in this season's EuroLeague Women's group phase.

Wisla: Dupree 10, Skerovic 14 (9 assists), Fernandez 13, Wielebnowska 0, Kobryn 2, Palka 3, Trafimava 0, Gburczyk 0, De Forge 24

Bourges: Petrovic 10 (10 rebounds), Snell 2, Melain 5, Miyem 11, Dumerc 9, Kireta 15 (12 rebounds), Lepron 2, Ndongue 5, Bujdoso
---
USVO 70-91 Spartak Moscow (20-30, 20-24, 16-24, 14-13)
If you are going to give youngsters a chance to play in a match, why not put them in action against Spartak Moscow whose team sheet includes many of the who is who in the world's women basketball. Sarah Michel and Doriane Tahane who have not really featured for USVO this season both were given the opportunity to show some of their talent during the second half of the match.
Spartak Moscow never allowed USVO, the hosts, a chance to get into this match. Lauren Jackson scored the first point of the match and then Krissy Bade equalised for USVO. This was the first and last time that USVO was level with their guests in this match. Sue Bird, Jackson, Diana Taurasi and Tina Thompson from Spartak Moscow quickly stamped their authority on the game and led 30-20 after the first period. Taurasi and Jackson combined for 33-of-54 of their team's points during the first half of the match as they went into the interval (54-40).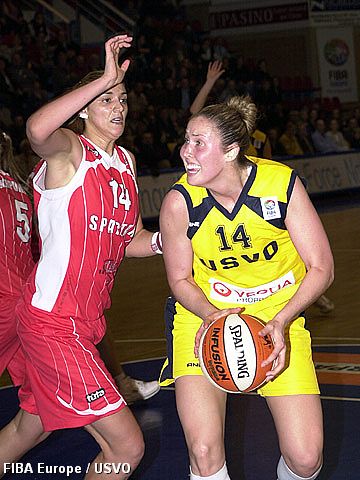 The EuroLeague game was over by a contest after 27 minutes when USVO trailed with 20 points (70-50). For USVO Nicole Ohlde (left in picture) continued to be impressive but this was not enough to disturb the solid defence put together by Spartak's head coach Natalia Hejkova. Her team's domination of the boards 39-23 was never troubled as they won (91-70).
Taurasi led the scoring with 22 points and 9 rebounds, Jackson scored 20 points in 23 minutes. Three other players finished in double digits: Ivana Matovic with 17 points, Tatiana Shchegoleva and Thompson with 12 apiece. Ohlde scored 15 points for USVO and was joined in double digits by Sabrina Reghaissia on 12 and 11 points each for Emilie Gomis and Bade.
---
No joy in the remaining two EuroLeague games that involved clubs from Ligue Féminine de BasketBall:
Germano Zama Faeza 77-70 Mondeville (22-19, 15-14, 17-19, 23-18)
Mondeville travelled to Italy with no true pivot and three U18 players from their youth Academy. None of the youth players actually played in the match and with Ingrid Tanqueray playing for only four minutes Mondeville took on Germano with only six players.
In a lively entertaining game the hosts finally gained the advantage in the final quarter with a 8-0 spurt with a pair of free thows by Cintia Silva Dos Santos and followed by 3 points apiece by Daliborka Jokic and Simona Ballardin to put them in front for good (72-66). Caroline Aubert was the only player from Mondeville able to score in the closing moments so the hosts went on to win (77-70).
Marija Eric was one of five players in double digits for the hosts with17 points but was beaten in the shooting stakes by Mondeville's Lenae Williams with 21 points.
Mondeville like Bourges and Villeneuve are now 1-4 in their EuroLeague group.
Fenerbahce 75-61 Villeneuve (18-15, 21-20, 23-14, 13-12)
Villeneuve led only once in this game and that right at the start with Géraldine Robert scoring the first points of the match. Cappie Pondexter then hit back with a 3-pointer for her side, and a second 3-pointer from her (6-3) gave her team the lead that they held for the rest of the match except for two brief moments.
In the second period the visitors levelled the game. But without Kathy Wambe out due to an ankle injury Villeneuve only managed to stay in contact with Fenerbahce until the interval and then trailed by 4 points (39-35). A 9-0 spurt by the hosts late in the third period (62-47) finally broke the resistance of the Villeneuve. With the break made the home side paced themselves to victory and relegate Villeneuve to the bottom of their EuroLeague group.

(EuroLeague photographs of Sonja Petrovic and Nicole Ohlde courtesy of FIBA Europe)

Return from EuroLeague to LFB Information Directory