EuroLeague fourth round: Victories for USVO and Mondeville while Bourges and Villeneuve loose
Ligue Féminine de BasketBall clubs have found the going hard in this seasons FIBA Europe EuroLeague Women competition with only one victory in the last two rounds.
You will be able to select a match summary by clicking on the link below or by scrolling down the page.
1. Kosit 2013 58-63 USVO
2. Bourges 56-57 UMMC Ekaterinburg
3. Mondeville 91- 62 Dynamo Moscow
3. Phard Napoli 80-73 Villeneuve D'Ascq

---
Kosit 2013 58-63 USVO (10-13, 16-8, 13-25, 19-16)
The opening moments of the EuroLeague match resembled that of a chess match with both sides looking for secure court advantage from their opening moves. It took only 15 seconds for the hosts to strike as Kathryn Gearlds hit a jumper. USVO's response came 30 seconds later after a nice build-up that resulted in Francesca Zara finishing with a trey. Lead changes were frequent during an error-prone first period. USVO went back in front for the third time towards the end of the quarter and held on to a slim (13-10) advantage thanks to a final score from Zara.
Neither side was able to get into any type of rhythm as the game became rather untidy. It took USVO almost five minutes to score a single point and that came from a steal by Emilie Gomis off Kathryn Gearlds. Kosic 2013 head coach Vladimir Karnay had enough and called for a time-out.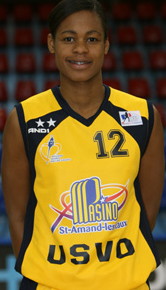 Whatever was said during the time-out in this EuroLeague tie worked as the hosts went on the offensive and within a short time had regained the advantage (18-17). Laurie Koehn's introduction into the game did not last long as she picked up a couple of personal fouls. Gomis and Zara started to put more pressure on their opposite numbers and thereby adding to their steal statistics but at the same time they - also in their anticipation - lost the ball a couple of times therefore negating their positive work. It was now the turn of Hervé Coudray to use a time-out. Although Krissy Bade (left) responded immediately with a basket, it was the hosts who went into the interval leading (26-21) thanks to Luisa Michulkova (12 points in the first half).


Gomis was a lady in a hurry and on a mission as she scored 9 of her team's first 12 points in the third period as USVO gained control once more (33-30) with the other points coming from the free-throw line. Bade was the only other USVO player to score from the field as Gomis continued her festival as her team extended their advantage (39-34). Kosit 2013, forced to chase the game, switched to zone which put an end to Gomis scoring but allowed Sabrina Reghaissia time and space to display her shooting talent from behind the arc followed by a mid-distance jumper off the work from Gomis. USVO went into the final period leading (46-39).
Kosit 2013 continued to chase the game and with Ivana Jalcova and Michulkova the USVO's lead was cut (48-44). Koehn was brought back on for USVO but it was Zara that responded with her second trey of the night to put a bit of day light between the two sides. Jalcova's resistance to be put down responded with a bucket. Koehn finally hit her 3-pointer and when Zara added another one moments later it appeared that USVO had the game in hand (57-50). The home side was having a torrid time from beyond the arc and continued to work away inside to come back and make it a 3-point game (57-54). Koehn hit her second trey of the evening but the hosts hit back from the foul line. Koehn was taken out and Gomis was brought back on. The hosts continued to apply pressure and when Michulkova was fouled by Reka Cserny it became a 2-point game (60-58).
The last 24 seconds was a nightmare for both sides as they offered each other opportunities to take control of the possession. Then Bade from USVO was sent to the foul line in the dying seconds as she calmly made the shots for USVO to win (62-58).
Michulkova scored a game-high 22 points and also grabbed 10 boards and was supported by Jalcova with 19 points. For USVO Gomis scored 19 points while Zara contributed 16 points, and Bade finished on 10 points.
USVO are now 2-2 in this seasons EuroLeague.

(Photograph of Krissy Bade courtesy of USVO)
Go back to the top of the page.
Bourges 56-57 UMMC Ekaterinburg (15-13, 13-12, 19-18, 9-14)
Sandrine Gruda and Kristi Harrower are used to playing at Prado and for just five seconds they gave the impression that they were still playing for USVO against Bourges. Harrower passed to Gruda and she finished it off to open the scoring in this EuroLeague tie.
That was all that Bourges allowed UMMC in the opening phase as they went on to score 11 consecutive points to distance themselves from their guests (11-2) after hitting 6-of-9 from the field. Bourges found it difficult to maintain the same shooting percentage and their guests finally started to find the basket (13-7). Céline Dumerc came on towards the end of the first period (her first appearance in EuroLeague this season) but was not able to change much as her team's advantage was reduced (15-13) by the end of the first quarter.
Dumerc made up for her buzzer-beater miss at the end of the first period with a shot from beyond the arc off the pass by Sonja Petrovic. UMMC stayed within touching distance as their Australians, Harrower and Penny Taylor, hit back to back baskets (20-17). Florence Lepron took over from Dumerc and showed that she can hit shots from behind the arc as Bourges continued to impose their rhythm on the game. As so often in this type of game, it became scrappy for some time and both coaches were agitated with everything. This match was no different resulting in a technical for Ekaterinburg. UMMC Ekaterinburg was trailing (19-26) but picked themselves up and scored the next 5 points settling their nerves. Bourges still went into the break in front (28-25).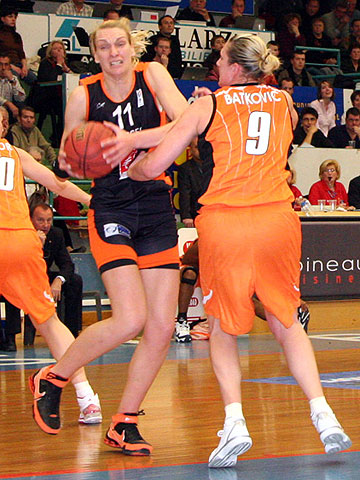 Neither side was able to gain the advantage as they continued to trade basket for basket with the hosts holding to the lead (37-33) midway through the third quarter. The game was tied briefly (39-39) before Bourges took advantage of their guests' foul problem to hit 8 free-throws which included a pair of free-throws for a technical (47-39). Harrower ended Bourges' monopoly of the free-throw line when she drew Dumerc into fouling her. Harrower converted her free-throws and UMMC's deficit was reduced (47-43) thanks to Nolan.


Bourges found the going tough in the final period of this EuroLeague encounter and managed only a single point and suffered a 7-0 reversal as Harrower and Deanna Nolan went to work to put the guests ahead (50-48). Pierre Vincent then decided to make a tactical change and take Dumerc and Bujdoso out and bring Lepron and Petrovic on. The payback was quick: Petrovic hit a 3-pointer quickly followed by a score from Emméline Ndongue to put the hosts back in charge (53-50). The game was tied on two more occasions before Harrower put her side in front (57-55) from the foul line. Dumerc and Belinda Snell's efforts to put Bourges back in front or level failed thanks to an impressive block by Suzy Batkovic as the game became rather scrappy in the final seconds. Penny Taylor had the chance to put the game out of reach from the free-throw line but she missed both shots. It was the turn of Dumerc from the free-throw line to tie the game, unfortunately she only split the pair and the chance was gone.
Gruda took 7 rebounds and finished joint top scorer with Nolan with 13 points each. Belinda Snell finished first for Bourges with 9 points in this low scoring EuroLeague game.

(EuroLeague photograph of Sonja Kireta courtesy of FIBA Europe)
Go back to the top of the page.
Mondeville 91- 62 Dynamo Moscow (15-11, 31-13, 21-17, 24-21)
Mondeville's recent poor form domestically in the Ligue Féminine de BasketBall and EuroLeague Women was quickly forgotten as they crushed Dynamo Moscow 91-62.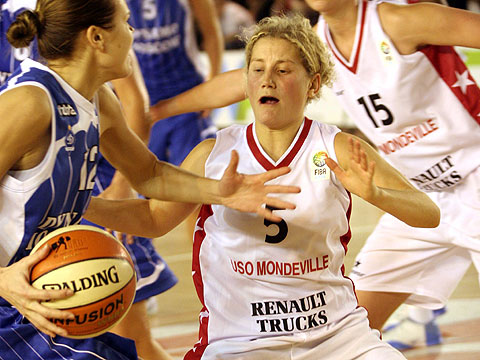 A 13-0 run by Mondeville to close the second quarter put them in control for the rest of the match as they went into the interval with a comfortable lead (46-24). Dynamo never managed to get into the game and with Caroline Aubert (left), Lenae Williams and Pauline Jannault hitting 14-of-25 from beyond the arc (56%) it was difficult for the guests to get into the match.

Aubert finished joint top scoring with Williams 22 points, she also dished out 8 assists, while Naura El Gargati compiled a double-double, 12 points and 13 rebounds. Jannault and Paoline Salagnac also finished in double digits with 16 and 10 points respectively.
For Dynamo Anete Jekabsone-Zogota led the way with 19 points, Kelly Schumacher contributed 13 points while Ieva Kublina finished with a double-double, 14 points and 12 rebounds.
This is the first victory for Mondeville (USOM) in the EuroLeague women this season and now puts them back in the race for a top four finish in the group.

(EuroLeague photograph of Caroline Aubert courtesy of FIBA Europe)
Go back to the top of the page.
Phard Napoli 80-73 Villeneuve D'Ascq (20-21, 13-25, 18-10, 23-17)
EuroLeague games at this stage of the season are often decided on small details. At the end of the first half Phard were 5-of-10 within the arc and 6-of-11 from beyond the arc. In the second half of the match they hit 8-of-11 from within and 6-of-12 from beyond the arc and went on to win the game by 7 points despite trailing by 13 points at the interval. Phard's attention to detail within the paint was the factor that enabled them to win this EuroLeague tie.
The game itself started with Phard's Adia Barnes getting involved in all the action early on as she hit a couple of 3-pointers and dished out a couple of assists as her side was forced to chase after the score early on and trailed (12-10). It was the turn of Mariangela Cirone to hit two shots from behind the arc as Phard continued to work from the perimeter while Villeneuve kept working on the inside and just edged the first period (21-20).
Jucimara Dantas for Villeneuve with already 6 points during the first quarter dished out a couple of assists for her team to put a 8-0 run together (29-22). Immacolata Gentile reduced the guests' advantage from the land of many (31-28) but this was as close as they came as Villeneuve finally hit a shot from beyond the arc by Ljubica Drljaca as Villeneuve finished the second period on a flourish 15-5 to go into the interval with a big lead (46-33) shooting at 70%.
Phard started its comeback in the third quarter with Cirone continuing to score from behind the 6.25m line while the remaining points came from the free-throw line (43-48). The hosts were showing more confidence by also working from the inside with Yasemin Horasan hitting back-to-back as her team continued to reduce the deficit. Finally Horasan's team-mate Astou Ndiaye tied the game (51-51) also from the inside with a jumper. Bintou Diémé from Villeneuve then silenced the hall as she hit a difficult 3-pointer for Villeneuve. Both sides changed defensive systems and the only other score in the last minute came from Shala Crawford to take the guests (56-51) into the final period with a 5-point lead.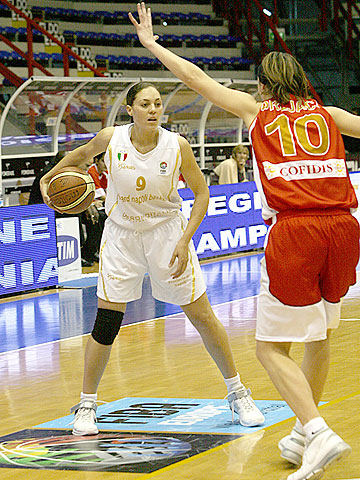 The Italians' approach was to go for the big shots right from the start of the final period with Villeneuve more attentive to Cirone. The responsibility for the first 3-point shot fell to Gentile, who missed. This was shortly followed by Barnes losing her composure and picking up an unsportsmanlike foul. Kathy Wambe made the free-throws as a result of the incident but the players from Phard were now fired up. Villeneuve, on the back foot, were unable to handle Barnes (left in picture) who hit a trey and soon after Cirone made it a 2-point game (58-56). Villeneuve briefly stopped the onslaught as Drljaca hit a trey. The two teams then traded basket for basket with the hosts coming out in front (72-71) with the game deep into money-time. Barnes went on to score the last points in open play (76-73) with 45 seconds remaining. Compared to the action before, the end was dull. With both teams not missing a single free-throw all night Villeneuve attempted to score from the land of many, and only committed the foul after they missed. This resulted in the home side visiting the foul line on two occasions and Cirone and Barnes made no mistake. For Phard this was their first victory in EuroLeague.
Cirone led all scoring with 20 points including 4-of-5 from the land of many, Barnes scored 15 points, Kedra Holland-Corn also scored 15 points and dished out 5 assists while Horasan and Ndiaye also finished in double digits with 14 and 10 points respectively. For Villeneuve four players finished in double digits: Drljaca, Wambe, Crawford and Géraldine Robert with 14, 12, 12 and 11 points each. Both sides are now 1-3 the EuroLeague standings.

(EuroLeague photograph of Adia Barnes courtesy of FIBA Europe)
Go back to the EuroLeague Round 4 Index at top of the page.
Return from EuroLeague to LFB Information Directory