Success in EuroCup Women for all four representatives of the LFB
A perfect couple of days in the Fiba EuroCup Women for the four clubs from the Ligue Féminine de BasketBall as they all came away with victories.
Tarbes' good form in Europe continued as they notched up victory number four beating CAD Madeira (58-46) with Gisela Vega finishing with a double-double with 23 points and 11 rebounds.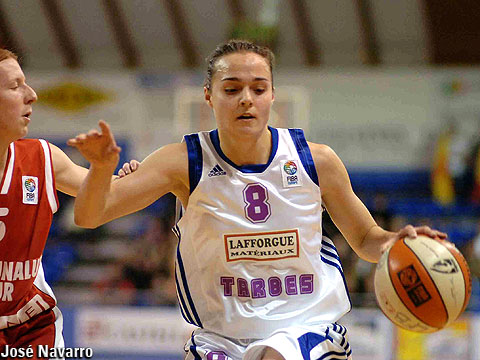 Tarbes did not start well allowing the guests from Portugal to dictate their pace in the opening few minutes and it took a 3-pointer by Laure Savasta to get Tarbes going as they finished the first period 10-2 to lead (18-12). Tarbes struggled to impose their style and this allowed Madeira to eventually tie the game (27-27). Vega put Tarbes back in front from the free-throw line and Jaklin Zlatova closed the first half with a trey giving the hosts a small advantage (32-27) at the interval.The rest of the match was played in spurts with long periods of no scoring as Tarbes played out the game to win (58-56). With this victory Tarbes have qualified for the knock-out stage of the EuroCup Women.
Challes-les-Eaux struggled to beat Rhonnda Rebels in their first meeting. Since then Challes have grown in confidence. The writing was on the wall early for the team from Wales as they conceded 17 unanswered points (17-2) with a little over five minutes into the match. The tie was over as a contest by half time with Challes leading (51-26). The interesting match-up from my point of view was between Claire Vanhoutreve (17 years old: product of Strasbourg Racing) for Challes, who had the upper hand and won the duel, and Harriete Yea (18 years old: 2007 U18 England player of the year). Vanhoutreve and Challes came out on top and went on to win (107-50).
Montpellier was never in danger of losing this EuroCup tie against EXXA BBTL from Luxembourg and the contest was over by the end of the first period (26-6). Valéry Demory, Montpellier's coach, used the rest of the game playing his bench and giving a chance to Marylena Guerra, Charline Servage and Manon Vierne, all youth players, to gain some court experience as they cruised to victory (85-54).
Aix-en-Provence was taken all the way by 08 Stockholm as they traded basket for basket for 38 minutes. With the guests from Sweden leading (60-59) with 90 seconds remaining it required another drive and pass by KB Sharp (8 assists) to Yacine Sene who finished with a lay-up for Aix to take the lead for good. Magali Lacroix then increased the advantage (63-60) with a jumper. The last minute was played out on the free-throw line with composed Lacroix and Nathalie Lesdema as their team held on to win (66-61) and take their EuroCup record to 3-1.

Return from EuroCup to LFB Information Directory