FIBA Europe EuroCup Women third round summary for LFB clubs
After reversals in FIBA Europe EuroCup for Challes-les-Eaux and Montpellier last week, both teams got back to winning ways on Wednesday evening with home victories against Spanish opposition.
Challes-les-Eaux appeared to love suspense: they started the match well enough against Hondarribia Irun with an (11-2) opening. Spanish sides are known for their coolness and sure enough they came back and trailed by a single point at the end of the first period (18-17). The second quarter began in the same fashion this time with a 9-2 run for the hosts. Then the guests came back to tie the match (30-30) after 17 minutes. For the rest of the game both sides traded basket for basket with each team having their moments. Approaching money-time the guests held the advantage (75-69). Jessica Davenport for Challes-les-Eaux with already 28 points was not to score again while her colleagues Tiffany Jackson and Emilie Duvivier hit a couple of shots from the land of many. The hosts still trailing by a single point took the lead for good with a jump-shot from Duvivier. The remaining scores came from the free-throw line as Challes-les-Eaux went on to win (80-76).
Challes-les-Eaux: Jackson (19), Duvivier (6), Frniakova (3), Dubois (6), Gomis (2), Luptakova (16), Davenport (28)
Hondarribia Irun: Jansone (17), Veselovski (9), Begoña García (17), Checa (4), Robinson, Quintero, Ana Suárez (2), Tamane (12)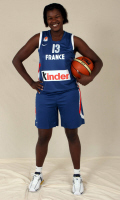 Sandra Dijon (left) set the pace for her team-mates in this EuroCup tie as she finished with a double-double of 17 points and 10 rebounds as her side overcame Baloncesto San José (72-60). The other good news for Montpellier this evening was the return of Gunta Basko.
Montpellier led at the end of the first period (20-16) with Dijon and Aurélie Bonnan combining 16 of their team's 20 points. A 13-2 run in the second quarter for the hosts (33-21) put them in control and by the end of the third they appeared to have a comfortable advantage (51-39) and the game should have been won.
Yet Montpellier have a bad habit of allowing opponents to come back and with 90 seconds left in the game San José were down by only 4 points (64-60). Montpellier this time kept their calm and made all their free-throws to take the match.
Montpellier: Daley (12), Jouandon (7), Basko (10), Podvokalnikova (3), Bonnan (14), Dijon (17), Moisés (9)
CB San José: Cohen (8), Feaster (8), Gómez (7), Page (10), Luci Pascua (6), Lima (7), Revuelto (11)

(Picture of Sandra Dijon courtesy of Hervé bellenger/IS/FFBB )
---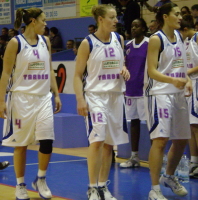 In Thursday night's EuroCup games Tarbes had no problem in beating Novia Munalux Namur from Luxemburg (76-39). Kristen Mann led the scoring with 16 points while Liz Moeggenberg and Gisela Vega finished on 13 apiece (See all 3 players in picture). Clémence Beikes finished with a double-double of 11 points and 10 rebounds.


In the third Spanish/French match-up for this round Aix-en-Provence lost (63-66) to Gran Canaria despite leading (51-47) going into the final period.
Return from EuroCup to LFB Information Directory