Mixed results in EuroCup Women second round
Aix-en-Provence, winners of this competition EuroCup Women in 2003, and Tarbes are having a torrid time in the Ligue Féminine de BasketBall at the moment but saved the honour of French clubs in Europe this week as they both recorded victories in the second round of group games.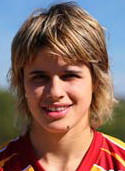 For Aix Ines Kresovic (left)top scored with 17 points as they beat the Italian side Lavezzini (76-66) at home. It was the Italians that got off to a good start to win the first period (19-9). Aix clawed their way back into the match during the second quarter with a 10-0 run to briefly take the lead (27-26) after a pair of free throws by Kresovic. She then went on to score back-to-back treys in a 8:0 run for Aix to go into the locker room in front (35-30). Megan Mahoney (20 points) became more active for Lavezzini in the second half of the match but her effort was not enough to negate the work of Liad Suez (13 points) and Yacine Sene (14 points) as Aix increased their advantage to 10 points (56-46) going into the final period.
Aix, , gave their fans a fright as they allowed Lavezzini to come to within 4 points on two occasions before reassuring their second win in Europe.
Furthermore Tarbes beat Nadezhda (82-65) in the second group game in the competition.
Unlike Montpellier who were leading (68-63) while going into the last minute this French team somehow managed to lose at home against Umana Reyer Venezia (68-69).
Also Challes-les-Eaux went down to an Italian side: Cras Basket Taranto playing at home (58-86).

Return from EuroCup to LFB Information Directory