The two teams traded basket for basket for the remaining of the quarter with a buzzer beater by Auréline Bonnan for Mondeville to edge the first quarter (23-21).
Bourges Basket changed their defensive action which kept Mondeville scoreless for five minutes while they scored 8 points while regaining the advantage (29-23).
Mondeville ended their draught period to score 12 unanswered points within a space of three minutes, with Williams scoring 8 for the hosts to edge in front (35-29).
However the pendulum swung in favour of Bourges once more for them to make up their deficit to go into the locker room tied (35-35).
The telepathy between Johnson and Williams enabled Mondeville to score the first 5 points of the third quarter.
Both sides then traded basket for basket almost six minutes to finish on level terms (49-49).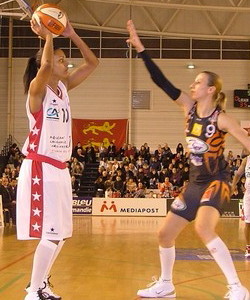 Ilona Burgrova went on the rampage for Bourges and scored 7 consecutive points. This enabled Bourges to go into the final quarter leading (56-53).
Both teams stepped up defensively making scoring more difficult. Carson started to run affairs for Bourges. Williams tied the game on two occasions with shots from beyond the arc (64-64).
Manic put Bourges into the lead for good with back to back baskets with the game in money-time (68-64). Carson then stretched the lead further with a 3-point play after forcing Yacine Séne into fouling her while driving to the basket.
Mondeville did not throw in the towel and Bonnan used all her force to score in the paint. Williams hit her 7th trey of the night.
Mondevile trailed by 2 points with 10 seconds left to play when Johnson and Carson were in a sequence of "I take the ball, no, you don't". Carson won the game and Johnson was called for a foul.
Carson scored both free-throws (73-69). Somehow Johnson managed to draw a foul on Manic with the game clock practically on zero.
Johnson split the pair and the game came to an end.
GO Back to the top