Tarbes exit FIBA Europe EuroCup Women with honour
---
---
EuroCup Women is over for Tarbes
A poor start in the first period for Tarbes ended their chances of making up their first-leg deficit. Tarbes' weak performance in this first quarter, riddled with turnovers, allowed Galatasaray to take an early lead (26-16).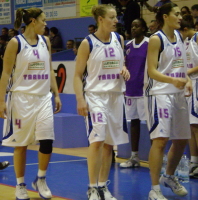 Tarbes had to wait until the final period before drawing level (53-53) with Liz Moeggenberg's second trey of the evening. Gisela Vega then gave her team the advantage briefly (55-53).
Then Galatasary lost the lead for good after Jaklin Zlatanova hit a three-pointer (64-63) with 2:30 left to play. Vega hit Tarbes' ninth trey of the night two seconds into money-time and put Tarbes in the driving seat. The rest of the game was played out on the free-throw line with Tarbes holding on to win (69-68).
Sofia Young with 17 points and Petra Ujhelyi with 16 points and 11 rebounds from Galatasaray were the offensive leaders while Clémence Beikes ended her European campaign by top-scoring with 18 points. Moeggenberg also finished in double digits with 14 points.
Levoni Taranto edged out KSSSE AZS-PWSZ Gorzow
The first game ended in a tie (72-72) and after 14 minutes in the second match only 1 point separated the two teams. Taranto finally took the lead for good (33-31) and went into the locker room with a 7-point advantage (42-35).
A 12-0 run by Taranto finally broke Gorzow's resistance allowing the home side to stretch their lead going into the final period (65-48). Rebekkah Brunson who had 22 points and 10 rebounds was the player of this EuroCup Women game as Taranto went on win (81-70).
Chevakata left it late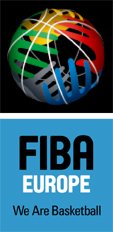 Umana Reyna had done all the hard work by winning the first leg (72-67). Going into the final period in this match they looked to have secured a quarter-final berth leading (57-50). This gave them a 12-point aggregate lead.
Furthermore Umana's advantage increased after Shannon Johnson hit a pair of free-throws. But that was to be the end of their scoring as their Russian guests held them scoreless for almost eight minutes while scoring 9 unanswered points to go in front (60-59).
Loree Moore was cool from the free-throw line for Chevakata as she levelled the aggregate score (65-60) with 37 seconds still to play.

Johnson scored her 32nd point of the match from the free-throw line as her side attempted to foil Chevakata at the wire. Unfortunately for Johnson it was her stray pass that led to Anastasia Pimenova hitting a trey for Chevakata. There was still time for one more Italian effort but Francesa Modica missed. Elena Volkova split a pair to end the scoring (69-62) for the guests.
Chevakata won the EuroCup Women tie (136-134).
---
---
This is what happened in the other EuroCup Women ties: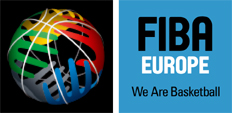 Sandra Mandir
and
Marina Mazic
scored 18 points each as
Gospic
from Croatia held off Turkish club side
Botas Spor
(75-59).
BC Moscow
showed no compassion for the Greek side
Panionios
with an emphatic (87-51) victory to win the tie (169-109).
Nadezhda could not make up the 19-point deficit from the first leg against Beretta Famila from Italy. Despite winning the second leg (69-63) Nadezhda are out of the competition. Betty Lennow scored 20 points for the Russians as they lost the tie (149-13).
Electra Ramat-Hastaron had a 6-point deficit from the first leg against Spanish club side Extrugasa. They continued to make things difficult for themselves despite home-court advantage as they allowed their guests to race to a (24-10) lead during the first period. A 16-0 run over two periods allowed them to go in front for a while.
Electra regained the aggregate lead by the end of the third period and held off the challenge of their guests to win (64-54) and qualify for the next round.
MBK were not able to come back from their first leg defeat against Elitzur Ramla and fell again (70-62).
---
EuroCup Women eighth final second leg results:
Gospic 75-59 Botas Spor (Gospic wins 138-119)

Umana Reyer Venezia 62-69 Chevakata (Chevakata wins 136-134)

MBK 62-70 Elitzur Ramla (Elitzur Ramla wins 152-129)
Electra Ramat-Hasharon 64-54 Exergues (Electra Ramat-Hasharon wins 118-114)

Tarbes 69-68 Galatasary (Galatasaray wins 129-110)

Levoni Taranto 81-70 KSSSE AZS-PWSZ Gorzow (Levoni Taranto wins 153-142)

BC Moscow 87-51 Panionios B.C. (BC Moscow wins 168-109)

Nadezhda 69-63 Beretta-Famila (Beretta-Famila wins 149-134)

In the EuroCup Women Quaterfinal the following clubs meet:
Gospic vs. Beretta-Famila
Chevakata vs. BC Moscow
Elitzur Ramla vs. Levoni Taranto
Electra Ramat vs. Hasharon-Galatasaray
Return from EuroCup Women to "What's New" page
Return from EuroCup Women to LFB Basketball News
Date: 8 February 2008
---