LFB news: The future of Tarbes is now in the hands of François Gomes
Tarbes Gespe Bigorre Elite are still in the LFB news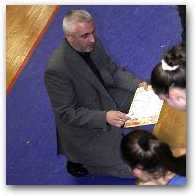 Tarbes' new coach, François Gomez, 47 years, has quit his post at the CFBB (Centre Fédéral de BasketBall) to at least ensure his new club's survival in the Ligue Féminine de BasketBall.
Since 2002 Gomez was responsible for the CFBB U18 women team which plays in the National Féminine 1 (NF1). At the same time he has also been the head coach of France U18 women. He took over from Pascal Pisan who had gone to Tarbes.
In addition to a new coach Tarbes have also acquired a point guard, Fatima Silva (34 years, 1.69m). She already played against Tarbes this season in the EuroCup Women competition. There she scored 28 points for her former team, CAB Madeira from Portugal.
Isabelle Yacoubou returns after injury while her medical cover Nelli Nevzorova has left.
Yacoubou is going to play this week. Although Gomez does not expect her to be immediately fully match fit after her long lay-off.
From the Tarbes players not all are new to Gomez. He coached Carole Leclair for two seasons at the CFBB. Furthermore Alex Kusion was a member of his U18 woman national squad. The last youth member of the Tarbes team, Marion Arfelis, is also known to him as she had played last season at the CFBB.
Gomez has already had a few sessions with the players and is already working on optimising their defensive systems. In particular he is looking at ways for his players to exploit defensive weaknesses of their opponents.
Gomez has been waiting impatiently for the return of all his players so that the team work can begin. Clémence Beikes due to sickness and Liz Moeggenberg who was held up in America should join Tarbes for the last two to three training sessions before competition resumes.
Return from LFB news to LFB Information Directory

Pictures courtesy of Basquetbol.org
Date:1 January 2008